DRAFT REWARD CHANGES & IMPROVEMENTS – PATCH NOTES 13/05/19
May 13, 2019
It's been a huge week in the world of Lightseekers and following this, we have made some improvements and adjustments from community feedback and further testing.
Thank you for your continued support, we look forward to hearing your feedback! – The PlayFusion Team 
Adventure Mode:
– The AI difficulty of the first few bosses has been adjusted.
– The first five bosses have had their health reduced.
– A number of early bosses have had a few cards adjusted.
Draft Rewards:
– Rewards for Draft have been adjusted to include more Gold.
– If you get at least 4 wins, you will now receive some Gold alongside the other rewards.
– For some tiers, the Gold has replaced a booster pack and/or fragments, but for some it's purely additive. 
The Gold Champion reward is now 2 Booster Packs, 2 Premium Loot Chests, 1 Mega Chest, 1 Draft Ticket, and 300 Gold.
Bug Fixes:
– Vilebrew Hexer will no longer let any heals through from Regen Chamber.
– Buffs with a first corner X that have an 'as this enters play' effect will now trigger even when moved into play.
– The Angered Kalamari has (against their wishes) put their item back in the item slot.
– Hyper Rewind should now correctly be acting like a 'Burn' card.
– Contra Bubble's second corner will now work correctly when converting self damage to healing.
– Cards that play other cards that can play other cards (etc.) would end your turn under some conditions. (This could have affected Ancestral Communion and Rustforge Assembly.)
– Shadehoof Scapegoat now won't trigger if you don't have access to Shadow.
May 8, 2019
Our latest Uprising update is here, and it's our biggest one yet! 
Today we bring 202 cards to the digital version of Lightseekers with UPRISING, available all versions of Lightseekers: Nintendo Switch, Mobile and Steam. You can find a full list of the cards on our card database here and see the main features of Uprising on our Uprising Overview page here. In addition, the Nintendo Switch now has full joy con support! 
In addition, the brand new single player ADVENTURE MODE is now available. With 200 stages of story-driven content, this is a major new mode that will bring dozens of hours of new content to Lightseekers. You can find out more about Adventure Mode, our previous news post has you covered.
Not only that, but we are also bringing DRAFT MODE to Lightseekers. This new competitive mode will allow for completely random deck builds with huge prizes for those who manage to run the gauntlet undefeated.
All of these new features make this the biggest Lightseekers update we've ever done. We really hope you enjoy the new content in Uprising!
There are some additional smaller gameplay updates and rule changes that are included in this release:
 –   You can now silence emotes from other players
 –   The front page of Lightseekers has been updated to include news and other useful information
 –   Once-per-game abilities can no longer be triggered by other cards' effects. For example, Dusktalon Assassin cannot trigger Star Tamer Calak's ability.
 –   Cards that trigger abilities' effects no longer count as 'using' that ability. For example, if Dusktalon Assassin triggers an ability, that won't trigger cards like Abyss Tentacle.
 –   A Burn card can no longer be Restarted or Rotated backwards by other cards.
 –   Hammerdown Enforcer is replacing the Crazed Bomber card, more details on this change and it's reasoning can be found here.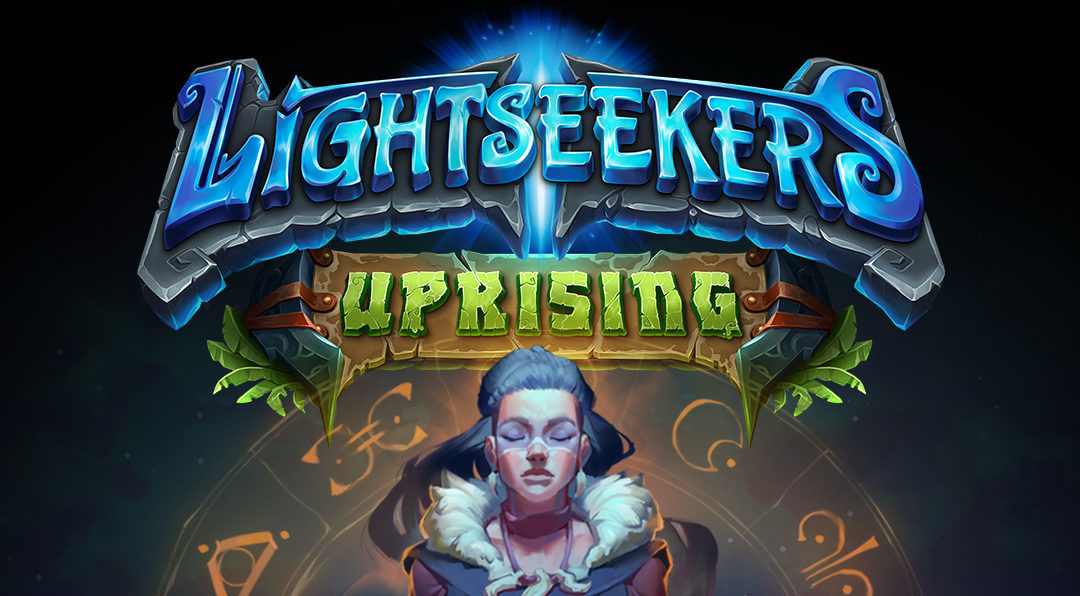 May 3, 2019
Hey Lightseekers! We know you have been waiting patiently for Uprising and now it is just around the corner – Uprising digital hits May the 8th, but that's not all, it releases with two new game modes, and FULL Nintendo Switch controller support. In this latest news, we look into what you can expect from Draft Mode, a change to Crazed Bomber and, of course, Uprising!
Draft: How does it work?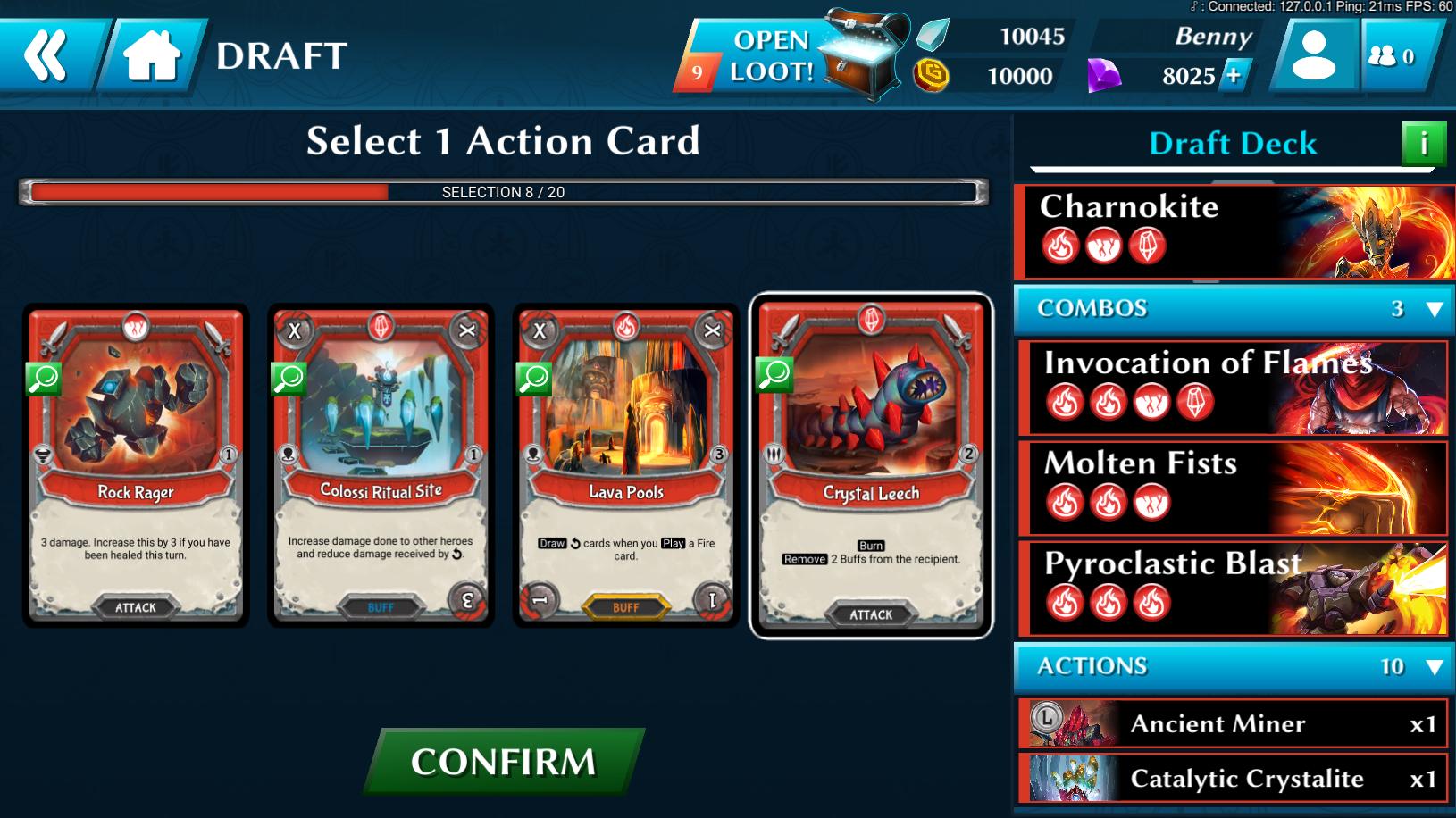 Draft uses a variant of the standard rules, so to start you choose from 2 random orders and then craft your deck from a random selection of cards! Then it's time to battle through 6 rounds to gain entry to the Prize Gauntlet. Lightseekers who battle through this and become victorious will win a Gold Lightseekers Chest: This includes, booster packs, mighty chests and gems!
All players will receive at least one booster pack, so whatever happens, all participants will win prizes! We will have more news on what you can expect to win from Draft next week!
The entry fee for Draft is 150 Gold or 100 Gems – and to celebrate the launch we are giving a FREE entry to everyone who logs in during the first week of release…alongside a free Uprising booster pack! So there are no excuses to not get stuck in!
Crazed Bomber > Hammerdown Enforcer
It will come as no surprise that in Lightseekers, the ability to remove Buffs can be considered one of the strongest utilities in the game. One card that is particularly effective at this is Crazed Bomber, mainly because it is the only one capable of single-handedly removing 3 Buffs in a single action. This was originally accounted for with the downside of removing your own Action Buffs in the process, but with the popularity of 'Buffless' Tech decks and the game-changing strength that Crazed Bomber provides, it has turned out to be too easy to bypass the aforementioned downside.
As of Uprising, we will be banning Crazed Bomber physically, AND removing it digitally, as its replacement arrives; Hammerdown Enforcer. As seen, Hammerdown is a Time Action card, falling into Tech's utility element (where you would usually expect to find Buff removal) whilst also fitting with one of Techs main themes, self-damage. This element change also allows for the recent Mythic hero, Time-Jumper Rylox, to have access to basic Buff removal.
So what does this mean for digital players?
As of Uprising's release, Crazed Bomber will be removed, and all digital copies will be replaced with equal copies of Hammerdown Enforcer. For players with scanned physical copies of Crazed Bomber, the level will be continued into Hammerdown Enforcer.
Any future Crazed Bombers scanned into the digital game will also be converted into Hammerdown Enforcers.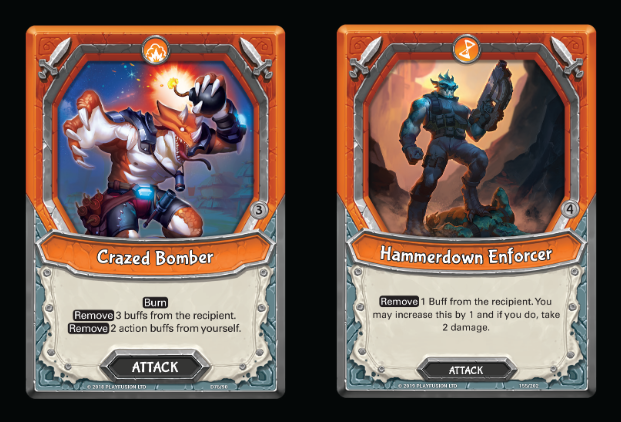 Get ready for Uprising!
Upon release, we will be offering a special bundle to get you started – for just 1500 gems you can purchase 25 booster packs ( that's 25 booster packs for the price of 20! ) and don't forget you will already receive a free booster pack and free Draft key from logging in next week!
We can't wait to see all your excitement on the 8th, with 202 new cards and all this brand new content it's going to be a big one!
April 30, 2019
As I am sure you already know: We're bringing a brand new single-player mode to Lightseekers, the aptly-named Adventure Mode!
This new mode alongside our brand new Uprising Digital Release AND Draft Mode will be available on May 8th. This is comfortably the biggest update we've EVER done for Lightseekers, and it's right around the corner!
Adventure Mode will be bringing over 200 stages to Lightseekers, and along the way, you'll meet the creatures of the world; from the stalwart Everok to the playful Mari to the tempestuous Kreebal as you uncover the true secrets of Tantos.
Don't forget that this update comes with 202 extra cards in Uprising, meaning that not only will there be new features and content, but there will also be a brand-new set of cards to play with too!

We hope you're ready because huge changes are coming to Lightseekers next week.
So with that in mind…here's a sneak peek at what Adventure Mode will bring to Lightseekers on May 8th! Who's excited?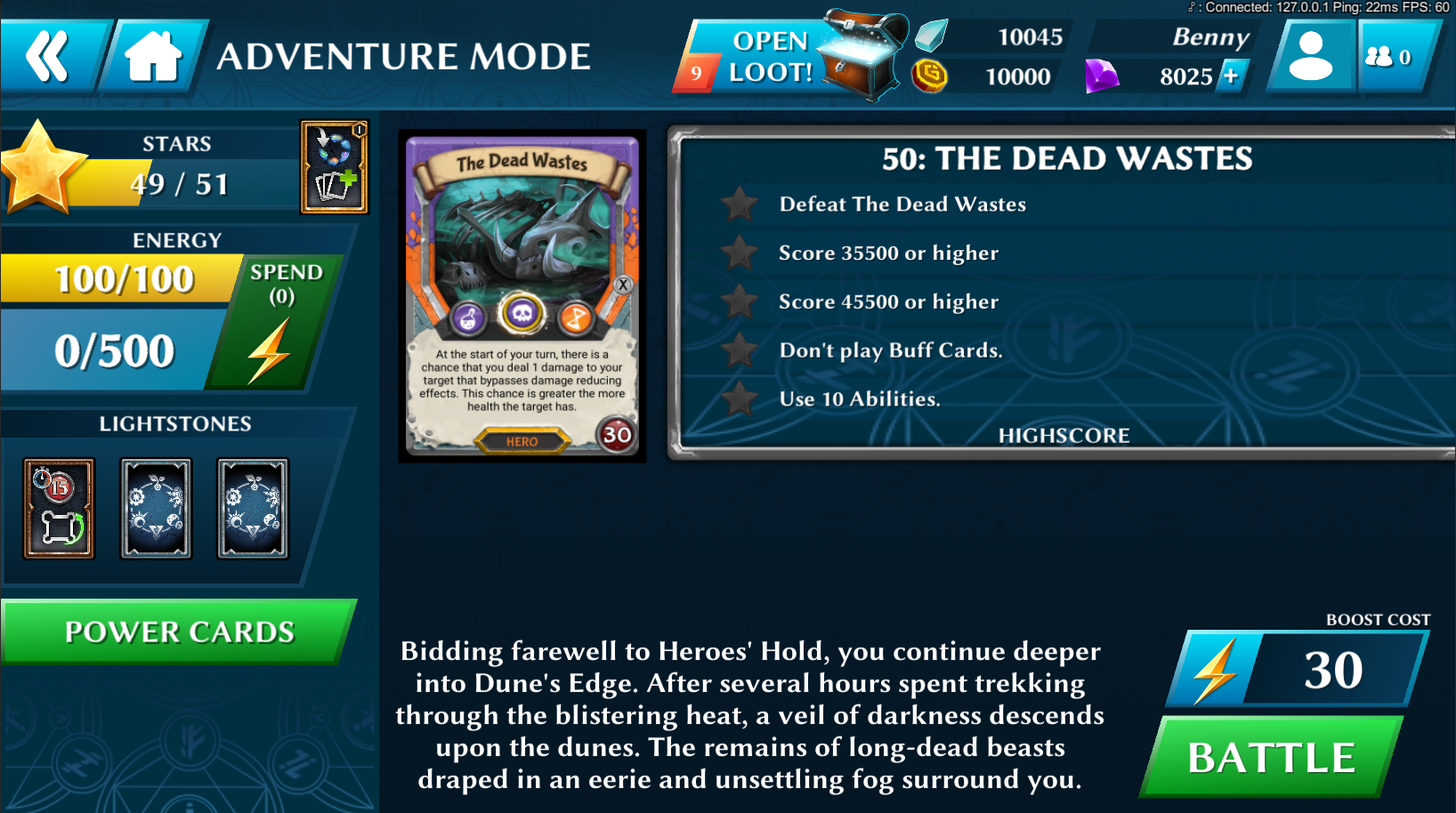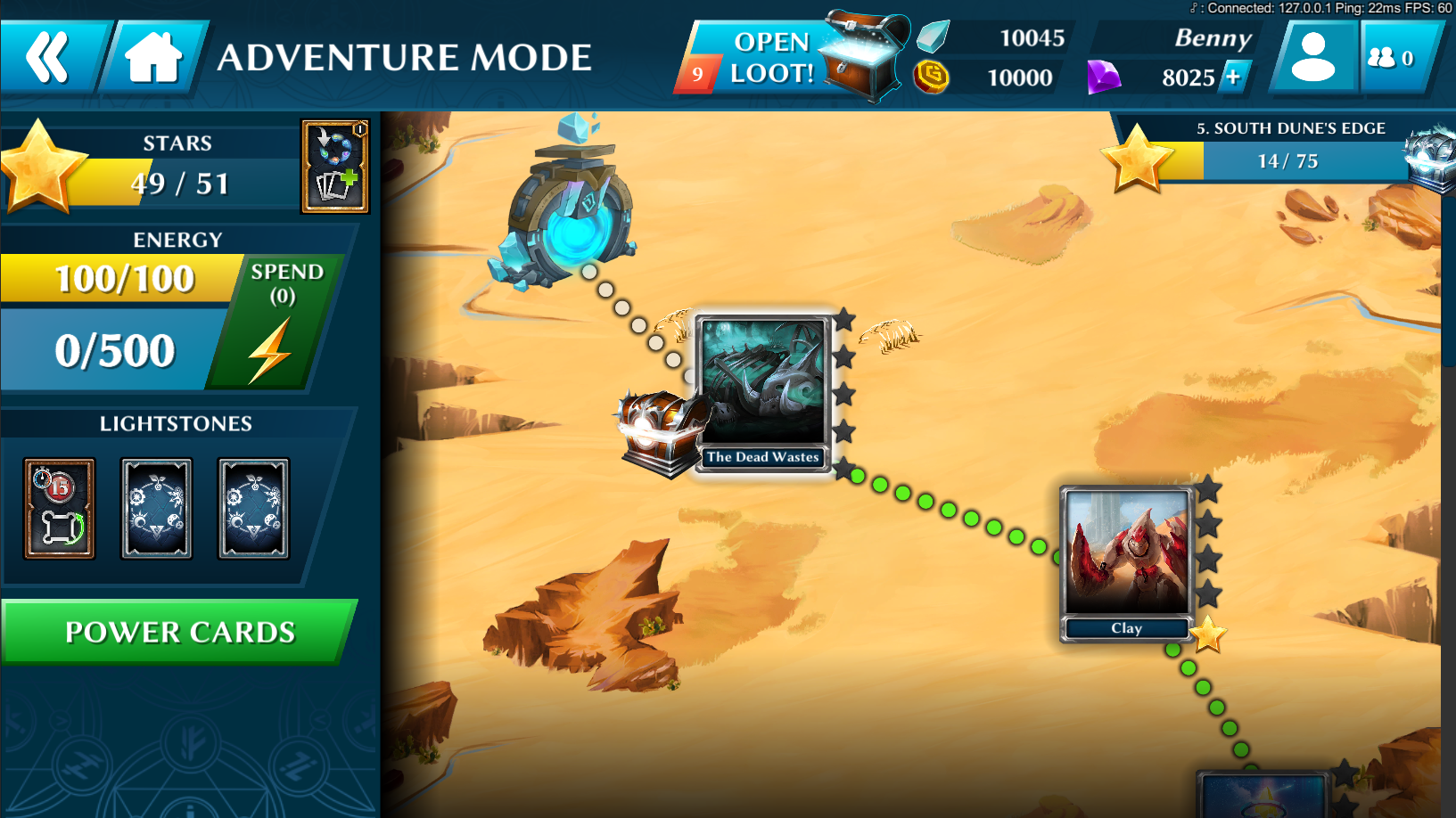 AN EGG-CELLENT DIGITAL CAMPAIGN
April 17, 2019
Hey Lightseekers!
The sun is shining, lambs are baaaaaaing – let's sit inside and play games! To celebrate the Easter holiday period we have a brand new campaign for you, featuring 3 puzzling bosses with 1 unique reward from besting them.
Here are some tips about the bosses and what you can expect: 
*This event includes a new keyword "Stubborn" – This simply means the card cannot be removed, returned or made dormant.*
Boss 1: Lalu the Rascal
Starting fairly simple, Lalu runs a relatively straightforward deck, but every few turns her "Stop for Chocolate" buff may become a problem. While it's on the fourth corner, anyone who plays a card (so you on your turn too) will heal her for 2 per card played. Don't feed the greed!
Boss 2: Everok Egg Cracker
Starting to ramp up now, the Egg Cracker has 3 "Lovely Eggs" in play, right next to "The End". "The End" is something we've seen before – It's just defeat in card form! Lucky for you, the Lovely Eggs make it dormant. Not so lucky for you, if you deal 3 damage, the Egg Cracker will draw "Crack Egg" from the discard pile. If they play this card, a Lovely Egg gets destroyed, leading us closer to The End.
Boss 3: Egg Hunt
Time for a Puzzle! This time, we give you a deck and you play as the Egg Hunter vs a very Hungry Tyranos. Tyranos is similar to his normal counterpart, with one key exception – he can't be defeated if you haven't got a full egg basket!
What is that? How do you fill your Egg Basket? Well by collecting eggs of course! There are four eggs to collect, with each one you collect unlocking the next. If you meet the objective as the egg hits it's fourth corner, you'll add it to your basket. All this while trying to stay alive against Tyranos.
Once you have collected all your eggs and won the campaign, you will receive an egg-clusive card back! This egg-cellent campaign will run from the 16th April – 30th April and during this time you will also be able can also purchase an Egg-traordinary playmat for only 500 gems. Yum!  ( We have run out of egg puns ) 
April 15, 2019
Hey Lightseekers,
We know you have been waiting for news from us, and today we can finally bring a monumental update to you. We've been working hard behind the scenes on what the future of Lightseekers looks like, and now we can share that with all of you.
Our latest expansion, Uprising will be releasing both Physically and Digitally. The digital release of Lightseekers will release early May, and this is going to include all of the new Uprising cards AND 2 massive new modes AND full joycon support for Nintendo Switch.
We're proud to announce that we are bringing a brand new single-player Adventure to Lightseekers. This massive, completely free story-driven mode will launch alongside the Uprising digital release, bringing a mammoth set of content to you when Uprising launches in May.
And that isn't all, we're also bringing Draft Mode to Lightseekers in the same release. Pick your Hero, draft your decks from random cards and challenge opponents all over the world!
We'll spotlight each of those new features of Lightseekers digital soon, but let's talk about the physical version of Uprising.
This is scheduled for release on Friday, June 28th. This is later than the digital version of Uprising, and considerably later than we wanted it to be. We had a promise to keep to you and we had to take some tricky decisions to make in order to keep that promise:
We've moved to self-distribution. We couldn't find a conventional distribution channel that worked for us, so we will be selling directly through Amazon to make sure we can reach all our players quickly, wherever they are in the world.
Uprising now includes Rift Pack 2 and the Core Box. Some of you eagle-eyed players will have noticed that our Uprising reveals initially listed 130 cards, and now are listing 202 cards, this is because we have merged our Core Box and our Rift Pack 2 releases into Uprising, meaning that there are now 202 cards in the Uprising set.
We considered every option, but we love this game and want to see it thrive. With the Gold Events raging on and the upcoming player invitationals, bringing Uprising to you all will see new decks and refreshed tactics leading into the next competitive season.
We thank you all for your patience over the last couple of months and we can't wait to see you all enjoy our new content!
Make sure to keep up to date with all things Lightseekers via our Reddit and Discord channel.
February 20, 2019
We had plans to make some balancing adjustments to a bunch of cards alongside the Uprising release, when the new Standard format goes into effect. This would include a variety of Classic cards, but also a few cards that would then be reprinted alongside Uprising with their updated text. However, due to the delays to Uprising, we have decided to make these changes in the digital game sooner, as we don't want these cards affecting the digital game negatively for longer than necessary.
The following changes only apply to the digital game – these are due to go live 21st February. 
These changes will be taking place instead of a dedicated version of the physical 'Classic Mode' where you only have limited access to the Classic card pool.
Classic Card Changes
When Uprising releases:
– Classic cards will no longer be part of the Standard format
–  The Ranked mode will be played in Standard format
– Classic cards can still be played in all other game modes
– The following are Classic cards that have received changes.
Astral
– Anti-Gravity Field – Its base damage has been reduced to 8.
– Eclipse – The healing has been reduced to 10.
– Flying Fortress – Is now 'Unique'.
Dread
– Abyss Weaver – Now has four clunky corners, instead of being permanent.
– Nova – The 'Ability' will now only apply healing if your target is below 35 health.
– Ritual of Awakening – Is now 'Burn'.
– Sicario – The 'Ability' now moves in up to 2 different Shadow Buffs.
– Terrify – The damage has been increased to 6, but only moves 2 Action cards back to the deck.
Mountain
– Ancient Miner – The corners are now X/1/X/2.
– Colossi Ritual Site – The corners are now X/X/3.
– Dolo the Mighty – Now has 30 health.
– Everok Carver – It now 'Expires' after applying its effects.
– Granite – Now has 31 health.
– Shattered Volcano – Is now 'Unique'.
– Stone Scribe – Is now 'Burn'.
– Stubborn Everok – Is now 'Burn'.
– Temple of Patience – Now has three clunky corners; 5/4/3.
– Wrath of the Mountain – The damage has been reduced to 10.
Nature
– Ambush – The damage increase has been reduced to 5.
– Cessilia – The 'Ability' now requires a card in hand to be used.
– Mantix Raider – Its base damage has been reduced to 2.
– Regrowth – Can now only move Action Buffs into play.
– Spectral Web – The corners are now o/o/o, and only protects other Buffs.
– Tree Sprout – The corners are now X/1/X/2.
Storm
– Cleansing Wind – The damage has been reduced to 8.
– Cloud Harvester – Is now 'Burn'.
– Confused Shaman – Now heals your target first, and you only receive the healing if they have less than 35 health after the heal.
– Fish Singer Ushi – Now only reduces the cost of 3- and 4-cost Combos.
– Flood – The healing has been reduced to 10.
– Healing Rain – The Corners are now 4/4/4.
– Hurricane Spirit – The number of cards drawn is now also derived from the rotation value (i.e. 2).
– Storm Shaman – The corners are now X/X/4.
– Stormshell – Now only reduces damage after taking a hit of at least 3 damage in a turn.
– Tempest Rod – Now requires at least 2 cards in hand.
– Tornado – Is now 'Burn'.
– Zapper Bug – Is now 'Burn'.
Tech
– Clockwork Construct – Is now 'Burn'.
– Forgewall – Only reduces the first hit of damage per turn (if the condition is met).
– Fumbling Alchemist – Now deals a base of 4 damage, and it can be increased to 6 by discarding a Combo.
– Looper – Is now a Buff with corners X/7. Your target draws 1 card as it enters play, and the second corner deals rotation damage.
– Shatter Blast – The damage increase has been reduced to 5.
– Time Chamber – Its damage can no longer be increased by effects.
– Time Flicker – The draw has been reduced to 3.
– Time Leap – Is now 'Burn'.
– Warden of Time – Is now 'Burn'.
– Zuna – No longer has superior Explosives, but her health has been increased to 30.
Cross Order
– Avalanche – The damage has been reduced to 8.
– Night Hunt – The damage has been reduced to 9.
– Star Blast – The damage and healing have been reduced to 6.
Unaligned
– Frenzied Kreebal – Now requires 2 or fewer cards in hand to have its damage increased.
– Kreebal Raid Party – The increase from discarded an Unaligned card has been reduced to 2.
– Shadowy Figure – The damage has been reduced to 3.
Standard Card Changes
The following are Standard cards that have received changes. Unlike the Classic cards, they will receive an updated physical print alongside Uprising.
– Beast Caller – Is now 'Burn' and 'Unique'.
– Black Hole – The damage has been reduced to 6.
– Canopy Creeper – Is now 'Burn'.
– Cold Snap – The amount of Buffs removed has been reduced to 2.
– Crystal Maze – The discard now only triggers if the attacker has played a Combo since the last turn or has a Combo Buff in play.
– Raising the Dead – Is now 'Burn'.
– Reality Rift – No longer grants an additional action, but instead draws 1 card.
– Spirit Walk – Is now 'Burn'.
– Storm Calling – Is now 'Burn'.
– Umbron Informant – The amount of cards it can draw has been capped at 4.
We do hope you enjoy playing this format instead of Classic mode and strongly believe these are healthy changes to improve the quality of the digital game, as always we really appreciate your continued feedback. 
February 13, 2019
Love is in the air. Don't worry if you didn't get a card this Valentine's, you can play with your Lightseekers cards instead!
Today we are bringing you two new campaigns for our Valentine's Event! 
In today's campaign Valentine's battle against Cupid, If you manage to prove your love to them you'll move on to "Love is in the Air", a boss that has a deck comprised of all Air cards and a Hero passive that plays around Air. Fancy!
Next week you will be able to take part in our 'educational' campaign Kreebal Dating 101.
For the FIRST TIME ever in Lightseekers, you'll play with a unique deck of cards that we give you for this campaign.
Take the role of a Kreebal Romantic and try and counter the smooth moves of The Kreebal Dater. Survive the first date ( they are never usually that fun ) and the tables turn. You'll become the Lovestruck Kreebal, trying to conquer the Loveshy Kreebal. If you can set the Mood, create the right Atmosphere and Romance just right, you can finally Confess your Love. Ooh la la!
Beating this second campaign will unlock the exclusive Gemruff card back.
Throughout the entire event, the Gemruff playmat is on sale ( 750 gems, down from 1000) and a new "Love Hoarder" playmat can be purchased in the store for 750 gems.
Good luck Lightseekers and we wish you all a Happy Valentine's!
Digital Qualification Points – Lightseekers Player Invitational
February 6, 2019
Over the course of the first 6 months of 2019, players will be battling it out for 1st place in the Lightseekers Ranked Ladder for the coveted Player Invitational Invite. As we are already through January's Ranked Play Season, we would like to share with you how we will be calculating that all important top spot.
To do this, we will be using a points system that is used exclusively for the Digital Ranked Ladder.
-There will be 20 points awarded to first, 19 to second and so on until you get to 20th, who will be awarded 1 point. No further points will be awarded beyond that.
-Each season, we will tally all of your points together and provide a leaderboard for the month, as well as a lifetime total to see who's at the top!
To start off with, here is the leaderboard for January Ranked Season 3! Did you make the list? 
Geode Hatchling – Burn changes
February 4, 2019
As of February 4th 2019, we will be introducing a balance change to the card 'Geode Hatchling'. This change will affect both physical and digital play.
This is a card that has been on our radar for some time, given that it is able to recycle other cards. Typically these kinds of cards include the keyword Burn in their card text to prevent 'infinite' card cycling (as seen with Root Singer or, more recently, Storm Calling). With Geode Hatchling, there have been previous instances of this card causing undesirable game states, especially when paired with Stubborn Everok. However, these cases have been sporadic and strategies revolving around such interactions have been difficult to pull off.
As the game has matured and the community has grown, players have been able to put together and refine these strategies much faster, resulting in powerful and consistent stun decks that have very few counters. Because of this, we will be updating the card effect of Geode Hatchling to include Burn.
What this means is that:
 – It cannot be moved out of the discard pile
 – If a card attempts to move a card labelled as Burn out of the discard pile, the move fails. These cards are kept in the Discard Pile once they move there
 – It cannot be stored under other cards
 – It cannot be moved from play (Buff Area or Equipped Items) to hand or deck
 – When 'Played', it cannot be moved to hand or deck
The latest release of the digital app has taken place today that incorporates this change and a few other minor fixes:

 – Camouflage will now affect Attack abilities as well as Attack cards
 – Opening a booster pack will now correctly tell you when a card is "New" for you in all cases.