Geode Hatchling – Burn changes
February 4, 2019
As of February 4th 2019, we will be introducing a balance change to the card 'Geode Hatchling'. This change will affect both physical and digital play.
This is a card that has been on our radar for some time, given that it is able to recycle other cards. Typically these kinds of cards include the keyword Burn in their card text to prevent 'infinite' card cycling (as seen with Root Singer or, more recently, Storm Calling). With Geode Hatchling, there have been previous instances of this card causing undesirable game states, especially when paired with Stubborn Everok. However, these cases have been sporadic and strategies revolving around such interactions have been difficult to pull off.
As the game has matured and the community has grown, players have been able to put together and refine these strategies much faster, resulting in powerful and consistent stun decks that have very few counters. Because of this, we will be updating the card effect of Geode Hatchling to include Burn.
What this means is that:
 – It cannot be moved out of the discard pile
 – If a card attempts to move a card labelled as Burn out of the discard pile, the move fails. These cards are kept in the Discard Pile once they move there
 – It cannot be stored under other cards
 – It cannot be moved from play (Buff Area or Equipped Items) to hand or deck
 – When 'Played', it cannot be moved to hand or deck
The latest release of the digital app has taken place today that incorporates this change and a few other minor fixes:

 – Camouflage will now affect Attack abilities as well as Attack cards
 – Opening a booster pack will now correctly tell you when a card is "New" for you in all cases.
February 1, 2019
It's been a very busy time here at PlayFusion, and we are thrilled at the response to our PC and Switch releases.
Despite fantastic feedback to our Switch launch, we understand a major priority has been for us to develop and release controller support for the Switch. Because of this we are looking to implement Classic mode during next season and thank you all for your patience.
We wish to implement classic mode alongside our Switch controller update – So all our players can enjoy the best and latest experience at the same time.
Changes regarding Classic
With Classic's release, this will replace any existing formats ( across all game modes )
If you're new to Lightseekers or want to know more about Classic Mode you can read more here
After Uprising's release, all formats will remain Classic bar ranked; this will be replaced with the Standard format – which simply put is to build decks from the cards that are not retired or banned. You can read more about this in our tournament policy. 
As always we really appreciate your continued feedback and can't wait to see the community grow this year with our planned releases.
LIGHTSEEKERS IS ON STEAM – PATCH NOTES 31/01/2019
January 31, 2019
Steam Release!
It's A big day for Lightseekers fans everywhere: Lightseekers is now available to play on your PC via Steam! The Steam version is a replication of the mobile app you know and love, and your current Lightseekers account can be merged into the Steam version, meaning you can seamlessly slip from playing on mobile to playing on your PC and back again.
Action Queuing
Previously Lightseekers worked on the basis that a card being resolved must complete before another card could be played. From this update, you will be able to choose to play cards in sequence, dragging (or otherwise) the first, then the second before the first has resolved. We call this action queuing, and it will speed up play significantly.
It will not be possible to queue actions in all circumstances, for example, you won't be able to queue up cards for actions that you are about to earn. A card that gives you an additional action will need to resolve before the action is available to be used or queued.
Ranked seasons
From the beginning of February, we will amend the length of Ranked Seasons from 2 months down to 1. Each season will still provide you with the same challenges and the same rewards, but from the 1st of February onwards, they will last 1 calendar month. We hope this makes for a more intense and rewarding experience.
Pricing and Reward Changes
We've made some changes to pricing and rewards to balance the game better:
-Missions have changed to either give Gold or Gems and the quantities awarded have been increased in both cases.
-The variation in mission rewards has also been flattened somewhat. Level-up chests from level 11 onwards can now contain Mythic rarity cards and single player Campaigns.
-The Gem price of Order Specific Booster Packs has been reduced from 150 to 100 Gems.
-The Mega Loot Chests have been reduced in price to 50 Gems.
-The generic 'Booster' pack from the store has been removed to better allow you to purchase cards for the wave you are collecting. If you still have these booster packs in your inventory, they will still work for you.
A couple of other bug fixes and amendments have been fixed as outlined below:
-The Mission System has been overhauled to make it ready for future functionality and to fix a couple of mission requirements.
-Achievement system overhaul to fix a number of minor issues.
Thank you for your continued support, we look forward to hearing your feedback!
The Tides are Changing – Organized Play and Lightseekers Points
January 22, 2019
The Changing Tide
As the moons wax and wane across the skies of Tantos, the shifting seas surrounding the Shimmering Isles ascend and descend the banks. The Mari have long since been drawn to the waters of the world, and every year host a festival to celebrate the changing of the tide.. Now celebrate this time-honored Mari festival alongside the residents of the Shimmering Isles; from the 28th January, our next Organized Play series is here; The Changing Tide!  
And we can reveal one of the prizes that you can win at upcoming local events, The Changing Tide Playmat. You won't want to miss this beautiful and elegant tribute to the Mari.
Lightseekers, be sure to keep a close eye on our store locator to find your nearest Lightseekers-equipped hobby stores. Then take a look at our event pages that are constantly filling up with new events, where will you witness The Changing Tide?
Lightseekers Points
Recently we announced that we will be recording Lightseekers points from all of the arduous battles that you have had from January 1st. You can now see our page dedicated to what Lightseekers Points are, how you can get them and what they are used for.
Find out about the range of exclusive digital rewards, the Tiered event system and learn how you can use your Lightseekers Points total to earn an invitation to our exclusive Player Invitational event, where we will fly and accommodate the greatest Lightseekers in the world to do battle with one another for incredible cash prizes and a chance to be immortalized in the following card set!
You can find out more about Lightseekers Points Here!
Lightseekers for Nintendo Switch is here!
January 10, 2019
Lightseekers, it's here and it's now! The Lightseekers, the digital trading card game has made its console debut on Nintendo Switch!
We are extremely proud to have made it to Nintendo's flagship platform, and to celebrate we're knocking 60% off the price of our welcome pack; for 200 gems you will get over 1500 gems worth of booster packs, an exclusive playmat and more!
To get the most out of the connected play experience, be sure to link the Lightseekers mobile game to your new Switch version of Lightseekers so you can scan cards and share rewards between devices, click here to find out how!
We hope you enjoy Lightseekers on Nintendo Switch, join our Discord to let us know your thoughts and to ask us any questions you have!
Lightseekers, new adventures await in the wonderful world of Tantos, where will your journey take you?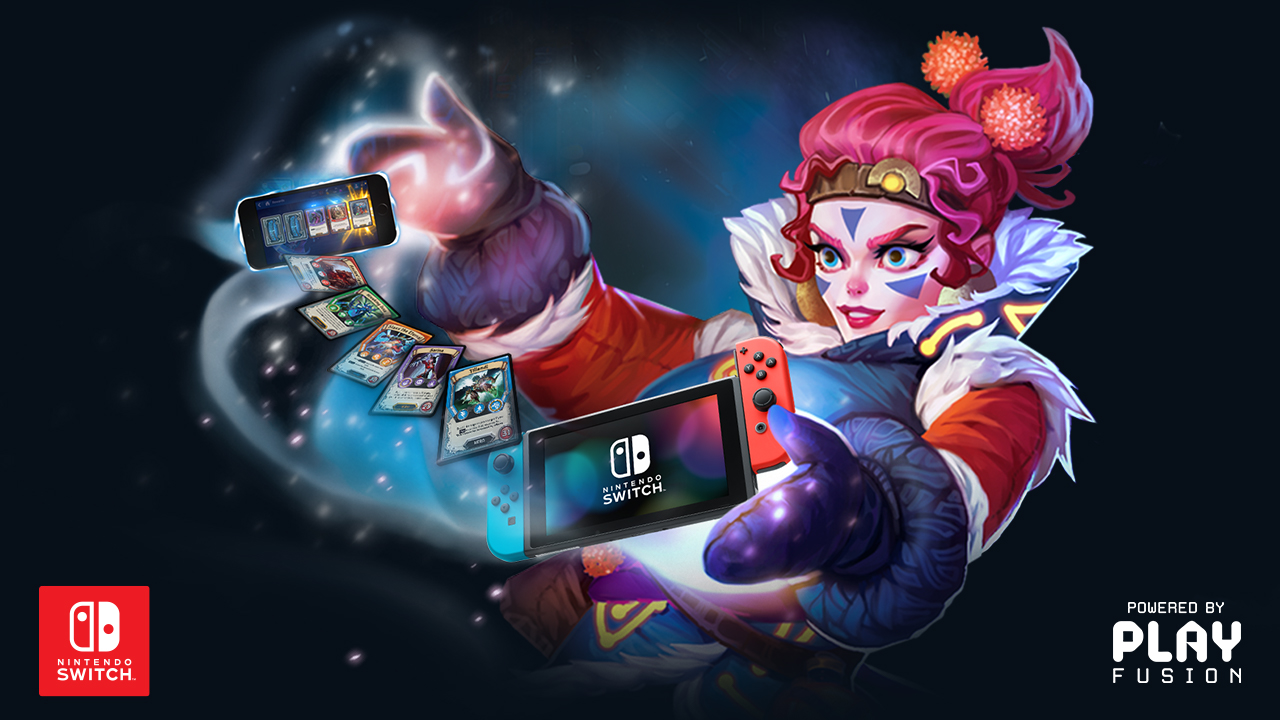 Lightseekers Digital Update 08/01/19
January 8, 2019
Kicking off the New Year, our team are already working hard making minor changes and fixes to the Lightseekers Digital App.
Today these minor changes and fixes have been implemented.
First off we have made a change to the "Trigger an ability" mechanic. A great example of this change is Dusktalon Assassin.
The "Trigger an ability" will now no longer be able to trigger 'Once per Game' abilities.
Furthermore in this small update:
"Burn" cards can no longer be moved back to hand or deck after they've been played/entered play, this covers across all cards with some examples down below:
Finally our minor fixes include:
– A grammatical error on Spectacular Sparklers is fixed
– A tutorial problem that a small number of players who have scanned cards, have experienced is fixed
– A minor change to the card makeup of the Mountain Starter Deck.
Thanks for all your continue support, we look forward to hearing your feedback!
Gold Championship Events and Classic Format Explained
January 4, 2019
What are Gold Championship events?
Gold Championship events are our third highest tier of events linking to the Lightseekers points (LSP) announcement we made in 2018.
You find out more on Lightseekers Points here
Gold Events are being run in selected stores in the UK & USA with prize pools of cash, physical product, exclusive playmats and an X4 Multiplier for any points you get.
Where are the events being run?
So far we have the following events in the US:
TPK Gaming, Glen Ellyn, IL 01/12/19
Family Fun Hobbies, Hamilton, NJ 01/26/19
Dragon's Lair Comics & Fantasy, Austin, TX 02/09/19
Alpha Omega Hobby, Quincy, MA 03/03/19
Recess Games, North Olmsted 03/17/19
And the following Events in the UK:
Excelsior!, Bristol 26/01/19
Settlers, Hamilton 23/02/19
Fanboy 3, Manchester 24/03/19
You can click on each link to visit the event page to sign up and get your spot in these coveted events!
What is Classic Format?
The Classic format allows players to include cards which were formerly classed as "retired" into their decks to play at events.
How Does Classic Work?
When deck building you can now include the following:
1 Classic combo in either your deck or sideboard
For Example: Benny is building a deck and wants to play Avalanche in his deck. This would be allowed within the new "Classic" format, however, he wouldn't be able to add Blood Moon into either his deck or sideboard, as he already has one of the "Classic" combos in his deck/sideboard.
Classic action cards may be included but at a maximum of 1 copy of each per deck.
Claire is looking to include Bone Chewer into her tech deck, Bone Chewer is deemed a retired card and so she can only include one copy of this card into her deck. Claire also wants to add Bulwark Carrier, this also is deemed a retired card, she can only add one copy of this card to her deck.
If Claire wanted to, she could make her deck entirely our of retired cards, however, she could only be able to have one copy of each card in her deck.
You can view all of the retired action cards you can play here
What Cards Can't I Play in Classic Format?
You cannot play any of the retired Heroes, you can find the list here
You also cannot play any of the retired item cards, found here
What about Banned Cards?
The list of banned cards are still in effect until the release of Uprising, these cards include:
Shadow Wraith
Pollen Weaver
Moon Song
Sun Beacon
Tyrax Engineer
What Cards have had an errata?
The following playable cards have had an errata and now read as follows :
Previously read: Move your last 3 discarded buffs into play. Gain 1 additional action.
Now reads as:  Burn. Move your last 3 discarded buffs into play. Gain 1 additional action.
Previously read: Move 2 discarded combo cards to your deck. Draw 1 card.
Now reads as: Burn. Move 2 discarded combo cards to your deck.
Previously read: Played Attack and Defend combos and Expired]Buff combos are immediately moved back into your hand (after applying their effects).
Now reads as: Burn. Played Attack and Defend combos and Expired Buff combos are immediately moved back into your hand (after applying their effects). This does not apply to Burn cards.

Previously read: Move your last ↺ discarded combo cards to your hand.
Now reads as: Burn. Move your last ↺ discarded combo cards to your hand.
Previously read: Reduce damage received by 1 while you have no buffs in play. This cannot be increased by effects.
Now reads as: Reduce the first damage received per turn by 1 while you have no buffs in play. You cannot wield items.
Previously read: Defend Ability: Discard 1 card to get 4 healing. Attack Ability: You Discard 1 card to deal 4 damage.
Now reads: Attack Ability: You Discard 1 card to deal 4 damage.
Previously read: Defend Ability: 1 healing if you have less than 20 health. Gain 1 additional action, without any stat restrictions.
Now reads as:  Defend Ability: 1 healing if you have less than 20 health. Rotate 1 of your action buffs 1 step forward.
Previously read: Draw 1 card. Select a hero when this card comes into play. That hero can't Draw cards or Defend.
Now reads as: Draw ↺ cards. Your target can't Defend.
We are really excited about the upcoming Gold events and can't wait to see you at them with your newly tested decks.
Don't forget to sign up to claim you spots and those coveted prizes!
Prepare yourself for the Winter's Hunt!
December 19, 2018
High above even the most daring yikona village stands the jagged peaks of the Starflake Mountains. Few dare to venture this far, for a beast of legend is said to call this place home. A beast that is believed to possess a treasure of great value, beware the claws of winter…
Lightseekers, it's time to commence The Winter's Hunt!
Winter Campaigns – Prepare yourself for 2 all-new campaigns that will land over the coming festive period. You can play the first right now, with the second to launch before the year is over. Good luck Lightseekers, and hunt for the exclusive winter rewards!
The Spoils of Winter's Hunt – Crashing through the snow comes the Winter's Hunt chests! These frozen spoils of the hunt contain exclusive content and treasures that will not be available after the event ends. You can also get your hands on a bundle of these at the store for a limited time only.
Wintery World of Tantos – We've added a full coat of frozen paint to the world of Tantos, can you feel the stiff chill run from the peaks of the Starflake Mountains?
Bug Fixes – Some card fixes have been issued which include, Chain Reactor, Wrench Juggler, Stalking Cipid and a number of other cards.
We here hope you enjoy this winter update, and hope you have a wonderfully festive holidays!
December 14, 2018
Today, we are sharing with you news about Retired cards and their legality moving into 2019. We have details about Uprising, the Core Box and a brand-new format! As of January 1st, all physical events until Uprising's release will be run under the new "Classic" format
This introduces a new group of cards, known as Classic cards. These were formerly known as Retired cards, however, this new group does not feature the following:
– Retired Heroes
– Retired Items
Classic format has the following deck construction rules:
– Decks may only include 1 Classic combo
– Classic action cards may be included but at a maximum of 1 copy of each per deck
– The above rules are in addition to Basic Constructed deck building rules
The digital errata made to Paralysis Bug will now also be applied physically as of January 1st (across all formats)
These changes will be made digitally, but not until early next Ranked season, so as to avoid compromising the current Ranked season.
Unfortunately, we had hoped that Uprising would be ready for release early 2019, however, this will not be ready for release until late Q1.
With this in mind, upon the release of Uprising we shall re-introduce Standard as a format in which events can run, which will only feature the following expansions:
– Lightseekers Wave 2: Mythical
– Lightseekers Wave 3: Kindred
– Lightseekers Wave 3: Kindred Constructed Decks
– Rift Pack: Lost Relics
– Organised Play Booster Pack: Series 1
– Organised Play Booster Pack: Series 2
– Organised Play Booster Pack: Series 3
– Lightseekers Wave 4: Uprising
– Lightseekers: Core Box 2019
(This also includes any cards featured in Lightseekers Wave 1: Awakening and Lightseekers Wave 1: Toy Exclusives that have since been reprinted with updated wave icons)
Alongside the release of Uprising and the Core Box, all banned physical cards (as of 4th December 2018) shall be made legal with their digital errata (which can be found on the Card Database shortly).
When Standard format is reintroduced, Classic, Draft and Sealed shall still remain as optional formats that may be used for any event.
The Lost Relics have been Unearthed!
December 5, 2018
Update Lightseekers today to get involved with the latest content – Reward Campaigns!
As you'll know by now, we have a weekly campaign where a story takes you through a series of challenging bosses who like to break the rules and use cards that might be a bit meaner than usual!
Today, you'll find that campaigns don't stop there! You'll now be able to find 10 brand new campaigns in Premium and Mega Loot Chests to collect and test your decks against.
These campaigns are permanent unlocks that you can earn rewards from the first time you complete them. If you happen to get the same campaign in a chest in the future, it'll reset the rewards for that campaign, allowing you to get them again!
You can also now buy "Rift Pack: Lost Relic" bundles in the in-app shop. These will provide you with 3 Kindred booster packs and a random item card, some of which will never been seen before! This is to compliment the release of the physical rift packs, which are available from all good game stores.
Until then Lightseekers!