June 19, 2019
Updated
Zone 5 for 'A Colossal Find' is now available; Colax the Historian has made his way to Lushlost Forest to investigate the colossi temple, but he is not alone.
Upcoming
This coming weekend will be Midsummer weekend, celebrating the Solar Maiden, Mina! From 12 PM Friday (UTC), June 21st, until 12 PM the following Monday (UTC), any Draft reward chests you open (except the Gold Champion chest) will also contain a guaranteed Astral card. Additionally, there will be a great deal on Common-Free Astral boosters in the store!
Bug Fixes
Anchored Soul now also protects Combo Buffs.
Ancestral Communion will no longer act unexpectedly if cards you play also draw cards or shuffle the deck.
Starhorn Tusker should no longer increase damage done if you don't have access to Solar.
Treetop Tribunal can no longer be removed on its 4th corner.
Time-Jumper Rylox will now work correctly if you play multiple Time or Lightning cards before the other one.
The animation for cards moving from discard pile to deck while Anti-Matter Field is in play will now work correctly.
June 12, 2019
Zone 4 for 'A Colossal Find' is now available; follow Captain Jolti's rapid ascent to Commodore and how he and his crew ended up in Lushlost Forest. Our epic story continues week on week, and it's free to play!
Other Changes
– A few bosses in regular Adventure Mode have been made easier:
     – Boss 35 – Umbron Spy
     – Boss 25 – Little Blammo
 – Gutbelch Tracker's hero power has been changed for Zone 1 of 'A Colossal Find'.
Upcoming
This coming weekend will be Dread weekend! From 12 PM Friday (UTC), June 14th, until 12 PM the following Monday (UTC), earn double XP when playing Dread and gain access to a fantastic Dread bundle in the store!
Bug Fixes
– Soul Storm is now properly considered a 'Burn' card.
– The Remove IV power card is now properly optional.
Developer Insights: Cage of Oppression
June 10, 2019
Since the release of Lightseekers' latest expansion, Uprising, one of the most hotly debated cards in the community has been Cage of Oppression. So, we figured it'd be a good idea to talk about it.
Design Objectives
Why did we make Cage of Oppression? What were our intentions behind it?
Objective 1: It should be good into 'stall decks'.
By 'stall deck', we mean a deck where the only objective is to outlast all of the opponent's cards, without actually trying to reduce their health to 0. Often, these decks aren't even trying to discard the opponent's cards proactively, but just aim to be able to take more actions throughout the game. This leads to some very long, and often frustrating and anticlimactic, games. Hence why we want to give players a suitable tool to compete with them.
Objective 2: It can't be too niche.
This is a mistake we've made with counter cards in the past. The cards have been given an effect that is strong into the type of deck it was designed to be strong against, but it's not strong enough to warrant running into other decks. For example, Draga Hoarder may be a good card into a mill deck, but if the opponent turns out to not be a mill deck, it basically becomes half a card, and the opponent now has an advantage against you. Unless a vast majority of decks you face are mill cards (which is unlikely), it's simply not a card worth running, so when you finally do come across one, you don't have the intended tools for the match-up.
Therefore, our second objective for Cage of Oppression was that it needs to be a card that is good enough to also be worthy of consideration into opponents other than 'stall'.
Objective 3: It can't be too good for 'stall'.
If it is a card that can fit into most types of decks, what stops stall decks also using it? One thing we wanted to avoid was that a stall deck cuts down to 32 stall cards and 3 Cages, and then simply let the Cages win the game for them while they hide behind their wall of defences and healing.
Objective 4: It can't be too easily countered.
We wanted to make sure the card is a serious threat into stall decks, and not just something that requires a minor adaptation in order to overcome. This is not necessarily because we want to completely get rid of long lasting decks, but rather that we strive to make as many variations of style match-ups as interesting and exciting to play as possible.
What We Ended Up With
This card went through a lot of design iterations. In fact, more than any card we've ever made. From the beginning, we were set on making it about perpetual, but slow, damage. We wanted it to bypass damage reducing effects to avoid that the inevitable damage reduction cards in stall decks simply bought enough turns to easily out-heal the remaining turns' worth of damage. We also didn't want it to be able to be removed, as this would be the most obvious way to counter it, and without even needing to make any significant deck alterations.
However, at this stage, all we've got is an incredibly strong card with no significant downsides compared to its alternatives. In order to give it some downsides, and also dissuade stall decks themselves from running it, we wanted it to go away if you heal yourself too much. The thinking behind this is that stall decks do a lot of healing, while their lack of damage means that the opponent doesn't require to do any, and thus won't cause them to remove their own Cages.
There are also three other quirks about the damage that isn't often seen in the game: it's delivered at the end of the turn, it cannot be increased by effects, and it cannot trigger other effects.
– The reason it's delivered at the end of the turn is to avoid that it also counters cards such as Mari Stormguard and Interia Sentinel.
– The reason it cannot be increased is to keep it as slow damage. We don't want this to be a spike threat.
– The reason it doesn't trigger other effects is primarily to avoid that it invalidates cards such as Mantix Hatchlings, Power Hoarders, and Regen Chambers.
We experimented with a lot of different ways the card could deal its damage, how much healing was required, how many corners it would have (if any), etc. We probably had between 15-20 versions of this card before it became what it is now.
Community Reception
The reception of this card has been mixed. Some players love it, some hate it, and some are torn between the two. There have been a lot of people discussing how it might be able to change, if it should change, and how good the card is. Let's take some time to answer some of these thoughts, comments, and suggestions, and why the card's numbers are the way they are.
"It should be [Unique]."
We played with several versions of the card where it was Unique. However, for too many types of decks, it being Unique meant it simply wasn't enough to effectively play into a stall deck. We don't want everyone to have to abandon their defensive cards and swap to aggro, just in case they become useless in a stall match-up, so, in the very long run, Cage of Oppression needs to be able to apply enough pressure to make up for the cards in the deck that won't provide you with any help in these games (i.e. your defences). This ties into objective 2.
"It should have fewer corners."
If we go down to two corners, Fountain of Time can single-handedly remove Cages in a one-for-one trade, and remain useful in match-ups without Cages due their flexibility. With a single corner, there are all of a sudden many more cards that can instantly counter it (and it really reduces that design space for us). This ties into objective 4.
"It should rotate from 1 or more healing, not 2."
The exact number of the healing was probably the most hotly debated topic during the design of this card. And, to be completely honest here (and perhaps to your surprise and/or shock), the majority of this discussion ended up between whether it should be 2 or 3, not 1 or 2.
While 1 was played with, it was abandoned pretty quickly, as it severely restricted what kind of defensive cards you can run alongside this card. Cards such as Repair Bot, Stumpdrift Shaman, and Abyss Shade effectively became no-go combinations, and the deck building opportunities shrunk more than we'd like. Instead of making the card feel "fairer", it simply felt like deck variation was reduced. Much of the debate around whether to take a Tyrax Fixer or a Repair Bot suddenly answered itself, which we didn't like.
We obviously tried to abuse the healing thresholds we set as much as we could, to see where we thought the card's breaking point would land. As mentioned, the required healing for one version of the card was in fact 3, but then it became a bit too easy for cards such as Regen Chamber, Grubby Pool, and Rickety Mine to become some pretty viable options for stall to slip under the radar.
This is a variant of objective 2, as far as we're concerned, only that it cuts out other options instead of itself.
This leads us neatly into a potential follow-up comment…
"But now the 1-healing decks are abusing it!"
There is a fine line between abuse and clever deck-building. Exactly where that line should be drawn can of course be debated (we clearly thought it was between 2 and 3). To some extent, part of what makes deck building in Lightseekers so much fun is to build around those perceived ways to abuse a card. Whether it's to gain more than the average number of actions off a Chimchu Commander, make a high value corner go off multiple times, repeatedly fast-forward a Power Hoarder, or recycle Bone Reapers; getting more value out of a small set of cards at the cost of other cards in your deck is a big part of what we think makes deck building in this game so much fun. To us, Cage of Oppression isn't an exception to this rule; we still want cards that you can try to build clever decks around.
"Do you think the card is perfect?"
No, we don't. This article wouldn't exist unless the card was either broken or was perceived to be broken, neither of which is perfect. Psychology obviously plays an enormous part into how fun the game is, and if a lot of players feel a card is outright unfair, that is an issue (even if it isn't unfair), and exactly why we've decided to address this card specifically.
The fact that the interaction with the card is relatively one-sided is something that has added to the frustration of some, and a very strong reason for us to keep watching this card, regardless of what we currently think about it. However, rest assured that we are also thinking about more ways to interact with it without necessarily hard countering it. There are of course already some ways in which this can be done (e.g. Chrono Warper, Flamechained Warrior, Gravity Bubble, Pacemaker Brox, Mari Bard, etc.) but more alternatives will come. Again, we strive for diversity in options.
How is Cage of Oppression Performing?
One of the community comments we didn't represent in the section above is, "you should always run three of this card". Instead of just saying 'yes' or 'no', let's share some numbers with you.
As of right now, decks that play Cage of Oppression in ranked are below 50% win rate, and are, on average, less likely to win than a deck that does not run it.
The average length of a ranked match is about 12.5 turns per player. Cage of Oppression decks don't really start approaching the 50% win rate value until games last about 15 turns. Even as the game length exceeds 20 turns, the win rate still only fluctuates around 50%. For example, in games that last 15 minutes or longer (an average of 23 turns), Cage of Oppression has a 49.3% win rate. As the game length dips below 10 turns per player (at 8 minutes of average length, which is about 69% of matches), the win rate of Cage of Oppression decks goes down further, to about 45%.
These are of course just averages, but should you blindly put Cage of Oppression into every deck you make? No, we wouldn't recommend it. Cards should go where they fit, and while there are some deck compositions that include Cages and exceed 50%, that's also true for many, many other cards.
To clarify on objective 2: we don't want to say that every single deck should play it, but we do want it to be playable by enough decks that, a) it's prevalent enough that stall decks don't automatically rise to the top, and b) it's not so punishing to your deck that if stall decks do rise again, you can't put a couple in.
As of right now, we feel like these objectives are being met. But we will of course keep monitoring it.
As always, thanks for all the feedback!
Adventure Mode Improvements – Patch Notes 04/06/19
June 4, 2019
Today we have some updates regarding the difficulty of early-stage Adventure Mode bosses.
Following on from feedback, we have made some changes to a few of the bosses found up to Stage 25 to make them fairer, especially for newer players.
Updates
'A Colossal Find' Zone 3 is now available. Play out the events of Ferrus' rebellion!
The decks used throughout 'A Colossal Find' Zone 1 have been tweaked a bit, to make them a bit easier as well as faster to play.
A few of the earlier bosses in Adventure Mode have been made a little bit easier. These are as follows:
– Stage 8: Cedrus
– Stage 9: Steeltusk Brute
– Stage 10: Mossback Beast
– Stage 15: Lost Architect
– Stage 22: Priestess Tay
– Stage 25: Little Blammo
Bug Fixes
Crystallizer now moves cards face down.
Fixed a typo on Contamination.
Fixed some incorrect icons and naming conventions for the Amplifier: Beasts I and II Lightstones.
As always, a big thank you to all of those who have provided feedback, we hope to hear from you soon!
Lightseekers UK National Decklists
UK National Classic Basic Constructed
Top 8 – ArranCK – Seleni
Hero
Seleni
Combos
Anti-Gravity Field
Black Hole
Gravity Bubble
Planetary Alignment
Sun Strike
Actions
1 Battleborn Oppressor
1 Crystalcore
1 Dimensional Hunter
1 Frenzied Kreebal
1 Shapeshifter
1 Skyrider
1 Subjugator
1 Umbron Barkeep
2 Blinding Beetle
2 Dusk Feeder
2 Pathfinder
2 Tantosian Blacksmith
2 Umbron Informant
3 Astral Priest
3 Chimchu Militant
3 Moonlight Burrower
3 Wandering Starformer
Side Deck
1 Blinding Beetle
1 Crushing Charger
1 Dusk Feeder
1 Mirror Beast
1 Pathfinder
1 Starforged Warrior
3 Vortex Slayer

Top 8 – [TLI] Latro – I really love Dan Coyne, part 10
Hero
Seleni
Combos
Anti-Gravity Field
Black Hole
Gravity Bubble
Planetary Alignment
Sun Strike
Actions
1 Battleborn Oppressor
1 Crystalcore
1 Dimensional Hunter
1 Frenzied Kreebal
1 Shapeshifter
1 Skyrider
1 Subjugator
1 Tantosian Blacksmith
1 Umbron Thief
2 Dusk Feeder
2 Pathfinder
2 Umbron Informant
3 Astral Priest
3 Blinding Beetle
3 Chimchu Militant
3 Moonlight Burrower
3 Wandering Starformer
Side Deck
1 Dusk Feeder
1 Flying Fortress
1 Mari Bard
1 Pathfinder
1 Umbron Thief
2 Chimchu Infiltrator
2 Yikona Oracle

Top 8 – Hiddenpants – DRAW!!! Tentacle cardo!
Hero
High Curator Arawn
Combos
Devour Soul
Horrific Manifestation
Raising the Dead
Ritual of Awakening
Shadow Form
Actions
1 Abyss Weaver
1 Battleborn Oppressor
1 Necro Dreadling
1 Putrid Shaman
1 Serpents Fang
1 Unruly Mob
3 Abyss Hoarder
3 Abyss Shade
3 Abyss Tentacle
3 Assassin's Guild
3 Dusktalon Assassin
3 Shadow Puppet
3 Spectral Widow
3 Wall of Bones
Side Deck
1 Battleborn Oppressor
1 Crushing Charger
1 Necro Dreadling
1 Unruly Mob
2 Shield Wall
3 Plague Bringer

Top 8 – Mashiro – 1st Place Swiss Cheese
Hero
High Curator Arawn
Combos
Devour Soul
Horrific Manifestation
Raising the Dead
Ritual of Awakening
Shadow Form
Actions
1 Abyss Weaver
1 Crystalcore
1 Necro Dreadling
2 Dusktalon Assassin
2 Soul Thief
2 Venom Feeder
3 Abyss Hoarder
3 Abyss Shade
3 Abyss Tentacle
3 Assassin's Guild
3 Shadow Puppet
3 Spectral Widow
3 Wall of Bones
Side Deck
1 Battleborn Oppressor
1 Spirit Gate
1 Tantosian Blacksmith
2 Crystal Leech
2 Gurgling Ooze
2 Kreebal Decoy

4th Place – Rubik_Cube_Man – Sunhunter
Hero
Sunhunter Tuktu
Combos
Enlightenment
Phase Shift
Reality Rift
Solar Wind
Sun Strike
Actions
1 Abyss Weaver
1 Ancient Miner
1 Colossi Gateway
1 Crystalcore
1 Pathfinder
1 Spectral Guide
2 Boulder Feast
2 Necro Dreadling
2 Shade Ripper
2 Shadow Puppet
2 Starhorn Tusker
2 Tantosian Blacksmith
3 Abyss Shade
3 Abyss Tentacle
3 Blinding Beetle
3 Mountain Fort
Side Deck
1 Battleborn Oppressor
1 Shadow Puppet
1 Starforged Warrior
2 Umbron Informant
3 Shield Wall
Rupture

3rd Place – Settlers Shazz – Cosmo Scouts Decks
Hero
Seleni
Combos
Black Hole
Gravity Bubble
Planetary Alignment
Reality Rift
Solar Wind
Actions
1 Battleborn Oppressor
1 Mirror Beast
1 Shapeshifter
1 Snowcaster Elder
1 Subjugator
1 Yikona Tactician
2 Blinding Beetle
2 Celestian Warrior
2 Dusk Feeder
3 Chimchu Infiltrator
3 Impatient Scholar
3 Mageship
3 Pathfinder
3 Skyward Observatory
3 Telestan Priest
Side Deck
1 Blinding Beetle
1 Dimensional Hunter
2 Wandering Starformer
3 Vortex Slayer
Enlightenment
Feather Storm

2nd Place – Cosmo – I love the German Guy
Hero
Shoal-Slayer Basko
Combos
Cold Snap
Crackling Torrent
Crushing Rapids
Healing Rain
Storm Calling
Actions
1 Battleborn Oppressor
1 Confused Shaman
1 Crystalcore
1 Duskglade Tome
1 Dust Fiend
1 Guard Snail
1 Suspicious Squid
1 Therapeutic Eel
1 Wind Controller
1 Zapper Bug
2 Canopy Creeper
2 Crystal Maze
2 Kreebal Monk
2 Tantosian Blacksmith
3 Bubble Fish
3 Delivery Crab
3 Thunder Slug
3 Vitalizing Frog
Side Deck
1 Crystal Maze
1 Kreebal Jester
1 Mari Bard
2 Crystal Leech
2 Swirling Purifier
2 Unruly Mob

WINNER – mchen – TheRedFlash11's Deck
Hero
High Curator Arawn
Combos
Devour Soul
Horrific Manifestation
Raising the Dead
Ritual of Awakening
Shadow Form
Actions
1 Abyss Weaver
1 Battleborn Oppressor
1 Necro Dreadling
1 Putrid Shaman
1 Serpents Fang
1 Shield Wall
3 Abyss Hoarder
3 Abyss Shade
3 Abyss Tentacle
3 Assassin's Guild
3 Dusktalon Assassin
3 Shadow Puppet
3 Spectral Widow
3 Wall of Bone
Side Deck
1 Crushing Charger
1 Spirit Gate
2 Shield Wall
3 Plague Bringer
2 Necro Dreadling
Developer Insights: Abyss Tentacle and Ranked Changes
May 23, 2019
Abyss Tentacle Errata
To start off with, let's first make it clear that we are not opposed to "indefinite sources of damage", and this by itself is not why Abyss Tentacle was changed. There is a big discussion about what warrants good or bad indefinite damage, but that's for another time. The reason we changed Abyss Tentacle is because of the rate this damage can be dealt.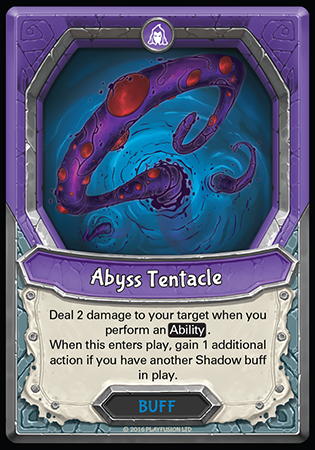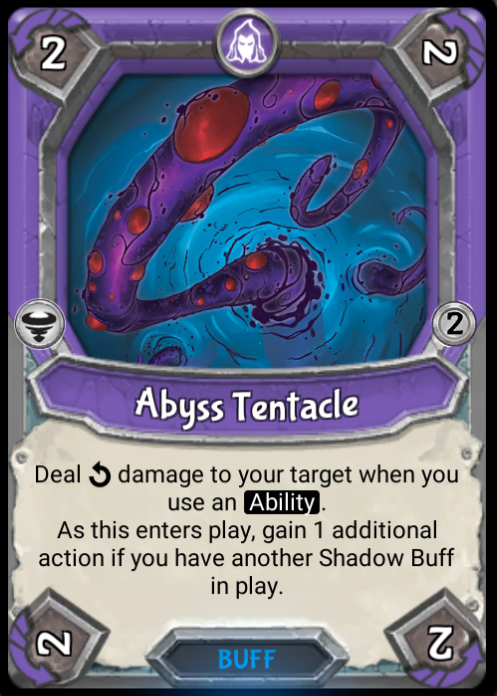 When we design cards, we effectively give them a budget to spend on effects. Negative side effects, strict conditions, waiting times, or which Order it belongs or doesn't belong to may increase this budget. This factors into the "economy" of the game (how you choose to spend your actions and what return they give; either immediately or over time).
When Abyss Tentacle was first created, Dread did not have very convenient access to Abilities that were immediately "on par" in terms of return on investment. To elaborate on what we mean by this, let's take a plain damage card, such as Mantix Spitter, as an example. Here is a card that provides 5 damage. To access this 5 damage, you need to first spend one action to draw it and another action to play it. On average, each action provides 2.5 damage for this card. Most Abilities that were available back then did not meet this same average value, so to invest into an Abyss Tentacle's damage, you had to perform sub-optimal actions.
For example, if you simply use a Hero Ability to ping for 1 damage in order to trigger a tentacle, you only do 3 damage with one action, meaning you very slowly creep back towards the Abyss Tentacle paying itself off. Meanwhile, you are also waiting for the damage, which usually increases the budget even further. If you wanted to increase the value of the Ability itself, you'd have to invest into actions to get such a card into play (e.g. equipping an Item or playing a Buff such as Night Lurker), putting you into a deeper "budget deficit" before you've reclaimed the value you've invested in and eventually can start reaping profit.
However, since then, new heroes (such as Xile and High Curator Arawn) have given players immediate access to Abilities that are "on par" from the get-go. This means that Abyss Tentacle could much faster get into profit, especially given its potential additional action. This means that the card is no longer the late game card it was intended to be, where you have to work with it for a long time before it overtakes other cards you could've played instead. If you also trigger its additional action, a single Abyss Tentacle can now generate 8 damage after only investing 1 action and waiting 3 turns. If we compare to something like a Prism Cannon, the same damage has been dealt, with "up front" benefits and one fewer action, and it can still keep going.
In other words, these 'on par' Abilities simply break the economy that Abyss Tentacle was initially designed around.
"But it was the only good thing Dread had going for it!"
We've seen a few arguments like these thrown around a lot over the recent weeks. It makes perfect sense why Abyss Tentacle is used in a lot of decks, because it's mathematically just outright better than most other cards. Some people have argued that Dread required this somewhat over-powered option in order to compete with other Orders.
However, we don't want Dread to have to play this card to be competitive. All this means is that any new cards in Dread have to be designed around the fact that the deck can also run Abyss Tentacles, so we either need to make weaker cards so that the overall package doesn't get out of control, or make completely contradicting cards that cannot be used with Abyss Tentacle, but are similarly over-powered in order to warrant any at all attention, and then we just dig an even deeper hole for ourselves.
We also don't want every other Order to have to constantly build decks that must provide answers for this specific card in order to be competitive; this just spreads these deck building restrictions across even more Orders.
Could we have changed Abyss Tentacle in a different way?
Yep, is the short answer. Abyss Tentacle is a card we've looked at for a long time, and we've had many discussions about what we could do it, or do to cards that enable it (e.g. give Xile and High Curator Arawn's Abilities "this can't trigger other effects"). We've also discussed holding off changes until future mechanics let us change it into something similar but different. However, in the end we decided to just go with the most straight forward change and let new cards lead the way with the new mechanics (instead of always just returning to this Awakening card). And we do believe that it is still a very powerful card that can hold a place in many decks, just not the "necessity" it currently feels like.
Ranked Changes
The other big change from the recent update was that we removed the promotion and demotion series (along with the safety nets) from our Ranked mode.
We had a few different reasons for creating demotions and promotions in the first place. Some of these were to create bigger milestones in progression, more easily solidify where a player "belongs", and create some tense and exciting moments. This was also when each Ranked season was 2 months long, instead of 1. Since many seasons have passed and they have gotten shorter, players have been faced with more and more of these promotion/demotion series, and they've instead become a dreaded point of potential frustration. Many players seem to go into these series not with the excitement of perhaps gaining access to a new league, but instead of fear of having to do it over again. So a successful promotion often results in relief rather than excitement.
Besides, with the seasons being shorter, it has made these add a sense of grind that we don't really want.
There is an additional benefit of also making it less straightforward to donate ranks to other players through win trading.
And that's some insight into the recent changes we have made and hopefully gives some perspective on our design thinking! We want to make this a regular series, so let us know if you'd like to see more on our Discord Channel.
Thanks for reading!
Benny and the Design Team
A NEW ADVENTURE – PATCH NOTES 23/05/19
Hey Lightseekers!
This week the team bring you a new adventure! Including some changes and improvements from your feedback. As always thank you for your support! –The PlayFusion Team 

Adventure Awaits! 
A new adventure has been added; A Colossal Find.
This is an on-going story that kicks off with the events of Uprising and continues into the story of the next expansion…
This week sees the first three encounters of the adventure – 'A Colossal Find' can be found under the 'Solo' menu.
Card Errata 
We had originally intended to wait with a change to this card until Wave 5, but due to continuous community feedback, we've decided to take action sooner:
– Abyss Tentacle now has 4 clunky corners of 2 damage each.
– This errata will take place in physical play from June 28th onward.
Bug Fixes 
A few errors that affected cards that reveal, draw, and shuffle in some combinations.
– An issue where Tantruming Kreebal is played off Ancestral Communion.
– The Elemental: Rotator lightstone will now be properly optional.
– Fixed some issues with cards that get stored by Makeshift Reactors or Cursed Graves multiple times in a game.
– Fixed an issue with Buffs that move stored cards into play when they have multiple cards stored. Ranked Changes
– We have removed the promotion and demotion series from ranked.
– This means that you will now move fluidly (whether for better or worse!) between divisions, brackets, and leagues.
– As usual, the end of season rewards will be determined by the highest rank you achieved (where you end doesn't matter as far as the rewards go).
EVENT AND PLAYER INVITATIONAL CHANGES
May 17, 2019
Greetings Lightseekers,
A few days ago we brought you news about our upcoming Events and we wanted to go over this in more detail for you all; first of all, we want to answer all of the questions you have regarding Gold Events.
Gold Events
Currently, we aren't able to support the Gold Events like we originally planned to. This is due to resourcing and logistical problems that do not allow us to be there in person like we have been previously, in addition to having to alter the prize support.
This has lead to us considering the option of cancelling these events, however, we have been in long conversations with stores that are due to host the Gold Events and we are now determined to work together with these amazing stores to bring Gold Events to you.
We want to run our full list of Gold Events that we have planned but with alternative prizes, we will be updating the Gold Events prize listings shortly with the update list below.
Each store hosting a Gold Event will receive the following for participation prizes:
– 10x of each of the Uprising playmats that can be seen below.
– 2x of each of the six Orders' Organized Play Series 1 combo packs (20 cards in each).
– 1x of each Organized Play Series 2 and Series 3 booster boxes (24 packs in each box).
– A bag of branded wristbands
(All of the above are in addition to the Booster prizes and Gold event playmats for the Top 8! )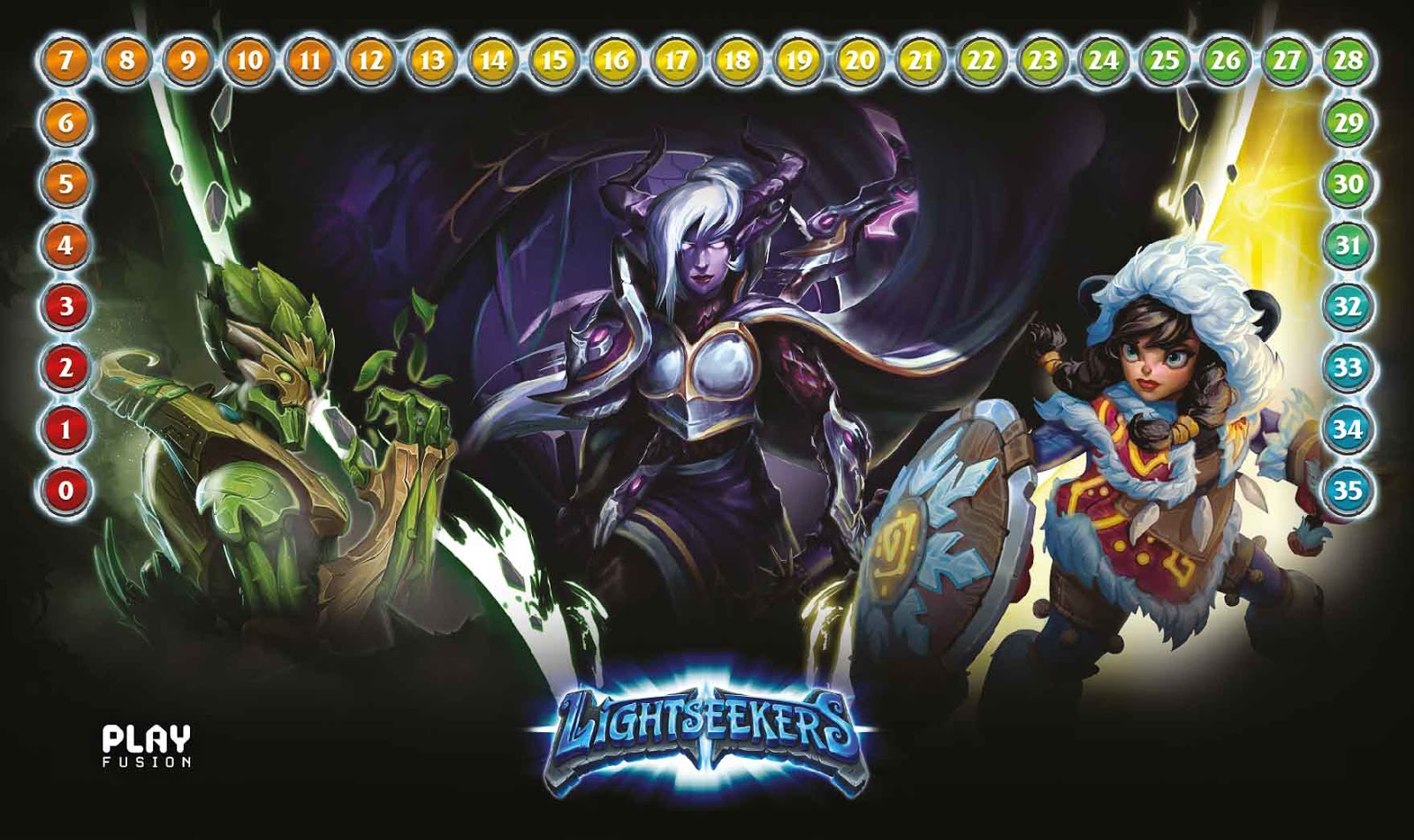 Nationals
Unfortunately, due to resourcing, we are additionally unable to host the US nationals. We are still hosting the Nationals at UKGE – however with altered prizing support. A full list of alternatives can be seen below;
1st Place: Foil Uncut Sheet, Platinum Playmat, 8x Booster Boxes, Design your own card theme!
2nd Place: Uncut Sheet, Platinum Playmat, 6x Booster Boxes
3rd/4th Place: Platinum Playmat, 4x Booster Boxes
5th/8th Place: Platinum Playmat, 2x Booster Boxes
Each player will still receive an 8x points multiplier.
Player Invitational
We wish to support those who have invested so much in travelling to each event to become the best. Along with this and the win-trading that has occurred in the digital app we have decided that we shall be changing the invited players to the Top 4 PHYSICAL points earners in each region. As such, we are looking to provide the prizes to those players at the end of the season (ending on the 1st of July).
The prize breakdown for each player in their respective regions are as follows:
1st
FOIL Uncut Sheet
NON-FOIL Uncut Sheet
A Playset of the following:

FOIL Kreebal Monk (Promo Art)
NON-FOIL Kreebal Monk (Promo Art)
FOIL Stone Scribe (Promo Art)
NON-FOIL Unruly Mob (Promo Art)

Boulder and Zyrus cards
Unreleased Original Elara and Ironbark*
Unreleased Obsidian Maul and Necroskull Ward*
Howlock the Founder Platinum Playmat
Limited-run Uprising Playmats (1x of each design)
2x of each Organized Play booster boxes (48x booster packs total)
6x Uprising booster boxes
2nd:
FOIL Uncut sheet
A Playset of the following:

FOIL Kreebal Monk (Promo Art)
FOIL Stone Scribe (Promo Art)
NON-FOIL Unruly Mob (Promo Art)
Boulder and Zyrus cards
Unreleased Original Elara and Ironbark*
Unreleased Obsidian Maul and Necroskull Ward*

Howlock the Founder Platinum Playmat
Limited-run Uprising Playmats (1x of each design)
1x Organized Play booster box (24x booster packs)
4x Uprising booster boxes
3rd/4th:
NON-FOIL Uncut Sheet
A Playset of the following:

NON-FOIL Kreebal Monk (Promo Art)
FOIL Stone Scribe (Promo Art)
NON-FOIL Unruly Mob (Promo Art)
Boulder and Zyrus cards
Unreleased Original Elara and Ironbark*
Unreleased Obsidian Maul and Necroskull Ward*

Howlock the Founder Platinum Playmat
Limited-run Uprising Playmats (1x of each design)
1x Organized Play booster box (24x booster packs)
2x Uprising booster boxes
Playmats can be signed by the Art and/or Design team on request.
*These cards are not eligible to be used in tournament play.
ALL 8 players will also have an opportunity to create a theme for a card to be released in a future expansion!
Lightseekers is something we love and want to see grow. We want to see players enjoying battles around the world hence we're doing our best in order to bring these events to you.
You can still find us at a number of major events around the world, we will still be attending UKGE, GenCon, TableTop Gaming Live and more – where we will be running tournaments, demonstrations and stands for you to come and say hi to us!
There's also just over a month until Lightseekers Uprising releases physically in stores, we can't wait to see what you think of it!
Thank you for your support and understanding,

The Lightseekers Team
DRAFT REWARD CHANGES & IMPROVEMENTS – PATCH NOTES 13/05/19
May 13, 2019
It's been a huge week in the world of Lightseekers and following this, we have made some improvements and adjustments from community feedback and further testing.
Thank you for your continued support, we look forward to hearing your feedback! – The PlayFusion Team 
Adventure Mode:
– The AI difficulty of the first few bosses has been adjusted.
– The first five bosses have had their health reduced.
– A number of early bosses have had a few cards adjusted.
Draft Rewards:
– Rewards for Draft have been adjusted to include more Gold.
– If you get at least 4 wins, you will now receive some Gold alongside the other rewards.
– For some tiers, the Gold has replaced a booster pack and/or fragments, but for some it's purely additive. 
The Gold Champion reward is now 2 Booster Packs, 2 Premium Loot Chests, 1 Mega Chest, 1 Draft Ticket, and 300 Gold.
Bug Fixes:
– Vilebrew Hexer will no longer let any heals through from Regen Chamber.
– Buffs with a first corner X that have an 'as this enters play' effect will now trigger even when moved into play.
– The Angered Kalamari has (against their wishes) put their item back in the item slot.
– Hyper Rewind should now correctly be acting like a 'Burn' card.
– Contra Bubble's second corner will now work correctly when converting self damage to healing.
– Cards that play other cards that can play other cards (etc.) would end your turn under some conditions. (This could have affected Ancestral Communion and Rustforge Assembly.)
– Shadehoof Scapegoat now won't trigger if you don't have access to Shadow.
May 8, 2019
Our latest Uprising update is here, and it's our biggest one yet! 
Today we bring 202 cards to the digital version of Lightseekers with UPRISING, available all versions of Lightseekers: Nintendo Switch, Mobile and Steam. You can find a full list of the cards on our card database here and see the main features of Uprising on our Uprising Overview page here. In addition, the Nintendo Switch now has full joy con support! 
In addition, the brand new single player ADVENTURE MODE is now available. With 200 stages of story-driven content, this is a major new mode that will bring dozens of hours of new content to Lightseekers. You can find out more about Adventure Mode, our previous news post has you covered.
Not only that, but we are also bringing DRAFT MODE to Lightseekers. This new competitive mode will allow for completely random deck builds with huge prizes for those who manage to run the gauntlet undefeated.
All of these new features make this the biggest Lightseekers update we've ever done. We really hope you enjoy the new content in Uprising!
There are some additional smaller gameplay updates and rule changes that are included in this release:
 –   You can now silence emotes from other players
 –   The front page of Lightseekers has been updated to include news and other useful information
 –   Once-per-game abilities can no longer be triggered by other cards' effects. For example, Dusktalon Assassin cannot trigger Star Tamer Calak's ability.
 –   Cards that trigger abilities' effects no longer count as 'using' that ability. For example, if Dusktalon Assassin triggers an ability, that won't trigger cards like Abyss Tentacle.
 –   A Burn card can no longer be Restarted or Rotated backwards by other cards.
 –   Hammerdown Enforcer is replacing the Crazed Bomber card, more details on this change and it's reasoning can be found here.