Lightseekers Points & Player Invitational
October 17, 2018
Lightseekers! As promised in our previous news here is the Lightseekers points (LSP) Breakdown for 2019. Are you up to the challenge?

Invitationals
Lightseekers points will be totalled up over a period of 6 months, at the end of this, there will be 8 players that will receive paid flights and accommodation, along with an invite to compete in our Platinum Player Invitational.
How do I qualify?
Players will be able to qualify by different means, and they are as follows:
 – 1st and 2nd Place at both the US and UK Nationals.
– The 2 highest ranking Digital players (1 NA, 1 EU) over the course of the 6 month period (3 seasons worth of play).
– Lastly, the highest LS Points earner for both NA and EU that haven't already qualified by the above means.
Player Invitational
The player invitational will be held after our National events in June and will be held at the Playfusion Headquarters in Cambridge, UK. This is the most prestigious event for Lightseekers where we will gather the best players from across the world.
Each participant is playing for a prize pool of £5,000 in cash and prizes. That's not all, the winner will be forever immortalized in card form with a themed card being made around them! This card will be released in a subsequent main set for everyone to enjoy.
Haven't managed to make it to the Player Invitationals? Don't worry! There will be additional prizes for certain Points thresholds met, which we will show you further down the line.
We can't wait to hear your thoughts about this one! We wish we could enter ourselves…
Lightseekers Organized Play 2019
October 11, 2018
Today we share with you a small glimpse into what will become our Lightseekers Organized Play Tier List.
These changes will be coming into effect from January 2019 and are broken down into 4 categories: Bronze, Silver, Gold & Platinum. Each of these offers different value of play and targets you, the player, on what best option you need to be aiming for in Organized Play.
Now let's show you a small offering of what each offers.
Bronze Tier
Bronze tier is all about going and enjoying in-store organized play combined with our casual convention tournaments.
These events are all about experiencing Lightseekers, or simply to enjoy some fun competition; while building up your Lightseeker Points (LSP) for future leaderboards and earning physical and digital rewards.
Silver Tier
While the Bronze Tier List features a social, fun environment in a casual scene, Silver Events allow you to participate in Store Championships or Independent Major events (like the Delivery Crab Circuit and Heroic Starfish Championships).
You continue to earn exclusive rewards similar to the Bronze Events, including our Lightseeker Points (LSP) and other exclusive physical and digital rewards.
Gold Events
This level of Organized Play offers higher level, competitive opportunities such as Regional Championships and Tournaments; alongside Major Convention Tournaments such as PAX Unplugged and GenCon, as seen previously.
You will continue to earn exclusive rewards across digital and physical; plus further Lightseeker Points (LSP) at these showcases. Be sure to look out for cash prizes at these events!
Platinum Tier
This bracket is the highest tier, in which you will be able to experience National and International Championships, gunning for the chance to lift the coveted Lightseekers National Trophy and huge cash prizes! Here you can earn the most Lightseekers Points and exclusive physical and digital rewards. The best news being that all National level events are open to anyone!
Why do I need LSPs? Well, Platinum events encompass not just National and International tournaments, but our Player Invitationals also. There will be very few spaces available for this, with invites going to the highest LSP earners, National Champions and highest ranking digital players. These Player Invitationals are the pinnacle of Lightseekers Organized Play with huge prizes, both digitally and physically.
There is going to be plenty on-going with Lightseekers in our upcoming Organized Play for 2019…but still we have more news and information on the way!
We look forward to sharing with you more details towards the end of this week, including some Gold Tier Events starting early 2019.
See you soon Lightseekers!
October 8, 2018
An Uprising is starting soon!
We're kicking off with a huge announcement that will shake up the way you play Lightseekers competitively! This week you will want to revisit each day to see what other things we have lined up in-store for you.
Lightseekers: Uprising (Wave 4)
Lightseekers: Uprising marks our 4th expansion and features awesome new heroes from a story yet untold. Coming early 2019, you'll be able to get your hands on Uprising and tell the tale yourself!
Rotation
As of the release of Lightseekers: Uprising, and to kick off our big push for Organised Play in 2019, we will be removing Lightseekers: Awakening from tournament play. This is the first time we have done a rotation in this card game, and at the current time there are no plans for there to be regular rotating of sets in future. There are a number of reasons outlined here as to why we are doing this, reasons that don't necessarily apply to rotating out sets on a strict schedule.
What does this mean?
Any card that was originally printed in Awakening (or the Toy Exclusive cards, and Awakening Starter Exclusives), will not be playable in official physical tournaments or Ranked Play digitally from the release date of Lightseekers: Uprising. Any card that has since been reprinted in any Booster, Bundle, or Deck product (so not including Organised Play or other Promotional Cards), will still be playable with any version of the card.
For example Crystal Leech was originally printed in Awakening, but has since been reprinted in Lightseekers: Mythical boosters and the Lightseekers: Kindred – Elemental Engagement deck, so is still playable in tournaments with any of its printings. Looper was originally printed in Awakening, but has not been reprinted in any product, so will not be playable in tournaments.
Alongside Lightseekers: Uprising, we are also going to be releasing our first ever Lightseekers Core Box. This Bundle product will contain reprints of key cards from across Awakening, Mythical and Kindred and is intended as a starting point for new players who want to get to grips with deck building in Lightseekers immediately. Any cards from Awakening that get reprinted in this set will remain in the tournament rotation. We will also be looking for other opportunities to reprint appropriate cards from Awakening in Boosters, Bundles & Decks so that they can be used again in tournaments.
The list of card sets that will be legal for official tournament as of Lightseekers: Uprising is as follows:
Lightseekers: Mythical
Lightseekers: Kindred
Lightseekers: Kindred Decks
Lightseekers: Rift Pack – Lost Relics
Lightseekers: Uprising (coming January-February 2019)
Lightseekers: Uprising Core Box (coming January-February 2019)
New sets will be added to this list as they are released.
Why are we doing this?
At the current time almost the entire banned and errata list for Lightseekers consists of cards that were originally printed in Awakening (Reality Rift being the only card originally from a non-Awakening set that has had an errata). In addition to those cards, many other cards in the set are of a higher power level than cards that have been printed afterwards, since as the game has developed balance has become tighter for each subsequent set.
In addition, cards from Awakening do not feature Family symbols, which adds an additional layer of memory that is required on top of knowing what cards have and haven't been errata'd for physical play.
Finally, this rotation means that as of Lightseekers: Uprising the physical game and the digital game will be aligned, not just with cards physically playing the same way that they play digitally, but also with the errata'd versions of Reality Rift and Paralysis Bug being reprinted in the Uprising Core Box. We've tightened up our balancing of cards so as to minimise the number of erratas or bans that may arise in the future; and are actively looking for ways to make sure that physical and digital won't drift apart again.
Join us later this week as we take a look at the new Organised Play structure for 2019!
Rift Pack: Lost Relics – Coming Soon
October 5, 2018
Welcome Kindred Lightseekers!
Today we are delighted to share with you some more news about the "Rift Pack" (which we mentioned in late July) and when you can get your hands on it.
Rift Pack: Lost Relics is a great way of fleshing out your collection with those difficult to find Item cards and aims to help fulfil your pack opening desires.
So what's included in Lost Relics?
Well, each pack contains:
3 Kindred Booster Packs, each containing:
6x Commons
3x Uncommons
1x Rare
1x Hero or Combo (of any rarity)
1x Foil Card (of any rarity)
In addition to these booster packs, you will also receive 2 of the following list in a guaranteed foil finish! The cards marked in bold have never before been seen in the battles of Tantos.
Frostflare Axe            
Moon Pearl Mace                                                     
Starsail
Leeching Scimitar
Grimglider
Serpent's Fang
Molten Blade
Crystalcore
Geoplate Defender
Timberstrike
Thornleaf Crossbow
Jadewing
Electro Eel
Aquadart Crab
Skyrider
Nitro Hammer
Spinblade 3000
Flynamo
These reprints of Skyrider and Flynamo will include their updated text and will mark their return to the Physical card game upon release of Lost Relics.
AND! Wait for it…….
1 Tantosian Blacksmith OR 1 Weapon Master
With a 1 in 4 chance for it to be Foil!
We hope you look forward to enjoying never-before-seen foil versions of exclusive Item cards, as well as getting your hands on some of the powerful Unaligned chimchu cards. Fingers crossed you're lucky enough to pull a foil!
As a final note to this, Rift Pack: Lost Relics will be launching in early December across our suppliers in the UK and US.
We can't wait to hear your thoughts on this!
Visionaries Competition Winners
October 4, 2018
Greetings to our Visionaries
The time has come after we announced back in September 2018, that 10 random winners who had conducted Visionary activities through the month would be in for a chance of each receiving a Visionary Playmat and 25 Awakening Booster Packs!
We have had such an incredible amount of enthusiasm and support in particular from the overwhelming coverage found in the US; as such the split has been altered to 4/6.
With great pleasure, we can now reveal the 10 random winners names which are listed here!
Europe
Karl Spurgin
Aaron Henman  
Jason Harris
Keith Stevens
North America
Travis Bentley
Wil Goolsby
Mark Burke
Elisha Jones
Nate Baker
Isaac Villa
We thank all of our Visionaries for their continued drive, passion, enjoyment and love around representing Lightseekers.
If you believe after coming onto this news post you want to support Lightseekers, moving forward and can follow the Ways of the Visionary, it's never too late!
You can find out all of the information and the application process here http://bit.ly/2zVgU9Y
Rank Play & Digital Card Updates
October 3, 2018
Welcome, All Lightseekers,
Today we have some fantastic news regarding changes to Ranked Play going forward!
On top of this, we also are making important changes to four digital cards.
All of the below changes are coming in the next game update. At the moment this update is slated to be released in the week beginning on the 15th of October. With that being said, let's begin!
Kicking off with our "Ranked Matchmaking", as you get a higher rating the search window for opponents gets bigger in order to compensate for players being more spread out. This has been increased further; so as an example for our players, in Platinum I, your search window has increased by 2 brackets over time.
Your change in "Rating" when you win or lose a game depends on how far above or below the opponent was compared to you. The windows ranging from weaker to stronger have been adjusted to accommodate for the increased search window. These changes will now also begin to affect players in the Master Rank.
So that covers our Ranked Play changes, but what's in-store for the cards? Well let's take a look.
The Ranked Play format in Lightseekers has seen a huge number of players battling it out in thousands of games over the last two months. In that time we've seen different strategies vie for supremacy, with a big shake up coming in the form of Kindred coming to the digital game and towards the end of the season we started to get a handle on the 'top' decks for the game. A few of these exist because there aren't reasonable ways to counterplay against them in a best of 1 game format like the Ranked ladder, so we are going to be making changes to the following 4 cards for Ranked Season 2 in an effort to build more diversity in what is played.
Starting with Treanu, his "Ability" now only lets you draw cards if the target doesn't have maximum health. Not only this, but the heal provided to the target can no longer trigger other effects. At the moment, Treanu edges out a lot of Nature Heroes as the default 'best' due to the way his Ability affects early game decisions, and favourable interactions with Spirit Channeler.
The updated text is as follows: "[Ability]: If your target is not on maximum health, [Draw] 2 cards. Your target heals for 3. This heal cannot trigger other effects."
Next up is Paralysis Bug. Due to some interactions we have seen with this card and new Kindred Heroes such as Asivak, this pesky Insectoid no longer stops card draw but instead only affecting Defends. As a quality of life change (and to bring its formatting in line with cards such as Shadow Wraith), the number of cards to draw has been moved to the corner value.
The updated text is as follows: "[Draw] X cards. Your target cannot [Defend]."
Wind Controller has also had the keyword 'Burn' added to it. The interaction of this card with Tornado to create the 'Infinite Ushi' deck, leads to games that take excessively long times to complete, whilst also minimising ways for players to effectively counteract it.
The updated text is as follows: "[Burn] [Played] Attack and Defend combos and [Expired] Buff combos are immediately moved back into your hand (after applying their effects). This does not apply to [Burn] cards."
Lastly, Granite has received a change to the damage increase when the deck is empty. This is now 3, down from 5. Granite has been the long-standing best Hero in Mountain when it comes to battling out the long game, in fact it is often an inevitability that if Granite manages to get to his empty deck, he will often be able to close out the game in a matter of a couple of turns due to the huge damage boost. We're hoping that by lowering this, there is more chances for players to meaningfully interact with Granite in this phase of the game.
The updated text is as follows: "Increase damage done to other heroes by 3 if your deck is empty."
These changes will be added in the next game update. We will provide every player a Full Shard Refund on all digital copies of each of these cards, as well as letting you keep them in your collection so you can try out their new versions. 
At the moment the physical versions of these cards will have no changes for tournament play, though we do have an upcoming announcement regarding physical banned & errata'd cards soon.
Please let us know what you think to these changes on the forums and social, we look forward to seeing you in-game!
October 1, 2018
Greetings Lightseekers!
We are now at the end of ranked Season 1. What a Season!
Thank you so much to everyone who has been playing, we know you are eager to see how you scored so here are the names for the Ranked Play Top 100. Let us know on the forums if you made it or some of your favourite players that did.
1 Dr. Atylis
– Jeff
3 Judge Gimp
4 ASudibjo
5 TPK|Goldcos
6 CapAp
7 Guwau
8 jjijjipong
9 DangoDan187
10 [HS]Cosmo
11 ????
12 JSNiceguy21
13 TCGChozenOne
14 FumpTruck
– grimmjow1176
– ~Ezekiel~
17 BovaFett
18 [HS] Djekko
19 Gul'Dan
20 Lightseeker
21 asamatterofmatt
– Redeagle28089
23 aoineko52
24 K-St!ch
25 BuffCorner
26 JesikaR
27 Jaeger
– Cododoke
29 MatoNguyen6441
30 urawizard
31 Battoukiri
– TK12186
33 FlankSinatrot
– warheartt
– Kola Nut
36 [ trauma ]
37 DracoMongo007
38 BruceWayne
39 JoJo
40 F4lLeNEMPIRE
– philjonesface
42 Twisted
43 penguin1551
– ThisIsAzrael
– Harasiel
46 Darkriptex
47 tmaster4
– Chimpions
49 Jonjonthatjon
50 TheEverblight
51 DragonpkEr
– justyjones2
53 Trey
– TotemChakra
55 RevtheRoadie
56 Jedikiah73
– [HS] h00x
– Krumb1138
– TheWhiteWolf
60 LordLoudpack
– darkcatcher
62 Latro97
– clgreen2
– accessdeny1
– Karlrp91
66 LordZee914
67 AlexCab15
– FatalZeph
69 Lone Glitch
– stylloflex
71 BRAKILION
– Heroic Starfish
– Rico
74 Settlers Shazz
75 Rojo 4 Dolo
76 CarlRw24
– Sleeping Eevee
– ($)solis1985($)
– Balrmung
– Oracle Johnson
– HeroicLordDG
– knokbek
– georgester13
84 Sexxxybilly
85 SLexperience
86 Galatin
– scarecrowkaiser
– mcsmurf
89 badgertheking
90 SeekerMumbles
91 Koropies
92 GlacialProxi1
93 TheRedFlash
– Biethioch
– YggdrasilEnt
– Mixpapi94
– TPK|Tetra
98 GominatorX
99 sexygamer.
– CCBacara
Thank you so much for your continued support and we hope to see you jumping back into Season 2. Think you can make the list this time?
To keep the excitement going forward, we will be making some ranked and card changes which we will be announcing later this week. As always keep an eye out across all of our Lightseekers channels for more news and updates.
Kindred Digital Now Available
September 21, 2018
Greetings Lightseekers,
The much anticipated Kindred expansion is now playable within the digital game. We are excited to see what changes you make to existing decks, or brand new strategies that emerge from your creativity with the new set.
Along with your scanned Kindred cards being playable, Kindred boosters are also available to purchase in the store, along with a number of other improvements to store items. We've also made a big change to how boosters works – for every 5 booster packs you open, you'll now receive a common-free mini booster containing 2 Uncommons and 1 Rare card or better! The best part is that opening that mini booster will count towards the next one!
We've also added new AI Challenges that will test your skills to their limit. The Heroes of Tantos will challenge you in-game; and if you manage to muster up a victory against one of them, you can win booster packs. However, they are not ones to be trifled with, expect the unexpected, watch out for chaotic cards and bring your A-game.
On top of all of this, we also have a Kindred launch celebration. With this, if you log in within 7 days of Kindred becoming available, you will get 250 Gems for free! If you haven't already you can also scan a physical Item card from Kindred for a special achievement that earns a Tantosian Blacksmith and Weapon Master card!
We look forward to seeing you online!
Kindred Digital Precursor
September 14, 2018
Greetings Lightseekers,
We know you have been eagerly waiting for the release of the new Kindred cards to the digital game and we're delighted to be able to finally announce that the update will go live mid to end of next week along with a few other improvements as well as some new features too. Before we have a look at those, we'd really like to explain a bit of the behind the scenes context that caused this to be such an epic undertaking.
Kindred represents a really major engine refactor, not only with all of the new cards, but also to the existing ruleset of the game. As a result, this impacted ALL the cards that we have in Lightseekers, not just those from Kindred; Flame Bat from Awakening now has a family attribute for example. The ruleset change was far reaching, and there are a number of new systems and edge cases that made it a very time consuming to change digitally.
For example the card Anti-Matter Field means that all players play with their deck face up; in the physical game this is simple enough, you just turn your deck face up. In the digital game this means we have to be able to render the traditional deck differently; we have to show the cards face up and give you the ability to examine them, we had to rework numerous card animations when the player draws a card; we had to reorder the deck entirely in reverse, we had to check how this reacts when the player plays a card to draw from the bottom of their deck and so on. We also had to test these new systems against all of the other cards in the game.
Now for new features! The following will all be present in the update next week alongside Kindred cards:
Hero Challenges
Whilst you have been battling among yourselves over Lightstones the world of Tantos has been taking notice. Heroes may now challenge you at anytime; expect a fight!
Hero Challenges have been added to the app
Challenges will be made to you periodically. You will get a notification when a challenge has been made.
Defeating the Challenge (and it will be a challenge!) will grant a bonus Booster Pack
Daily Deals prices have been adjusted
Standard Order Specific Booster Packs reduced from 150 to 100
Item Booster Packs reduced from 300 to 250 (and now guarantee 2 Rare Items)
Cross-Order Booster Packs reduced from 500 to 300 (and purchase limit increased from 1 to 2)
Kindred Launch Reward
Log in to Lightseekers to claim your Kindred launch reward of 250 gems for a limited time.
Looking beyond this next update; here is a list of some of the upcoming features that we currently have in the works for Lightseekers:
Weekly Single Player Events
Each week you will receive a mini-campaign of connected bosses to battle your way through for big rewards.
Re-Roll Mission Functionality & Greater Mission Variety
Additional Practice Game Mode Features
Including ability to set the deck you play against from a deck within your collection
Foil Card Representation In-Game
Includes additional range of cosmetic effects for physical and digital cards
Player Statistic Feature
Including ability to view friends' and other players' profiles with stat information
These features are in varying stages of development, and as such have no solid launch dates that we can reliably share just yet, though we endeavour to make continuous improvements to the app with updates every two weeks.
Thank you very much for your continued support! We really hope to be able to delight you with a great game update shortly
Have fun and see you all in game!
Halloween Organized Play Announcement – Part 2
September 6, 2018
Greetings Lightseekers,
As mentioned previously this week, today we will be showing off our fantastic Organized Play promo cards. These will be featured in our new OTP (Official Tournament Pack) that can be found in the new wave of OP kits starting mid October.
Each card has been given a border for the theme 'Halloween Horror'. The cards included in this will be the Basic Buff removal of each of the 6 Orders, or more specifically, these cards are: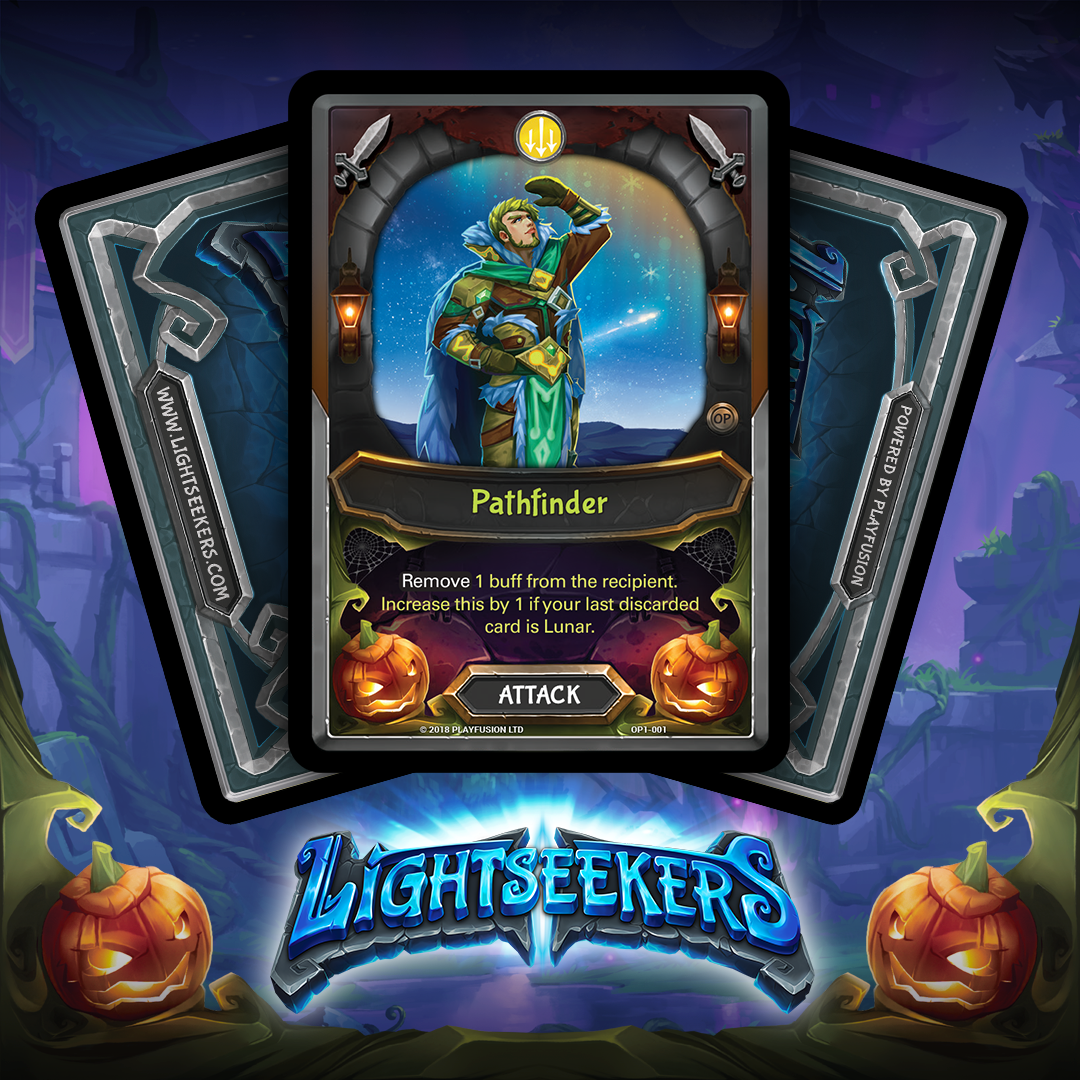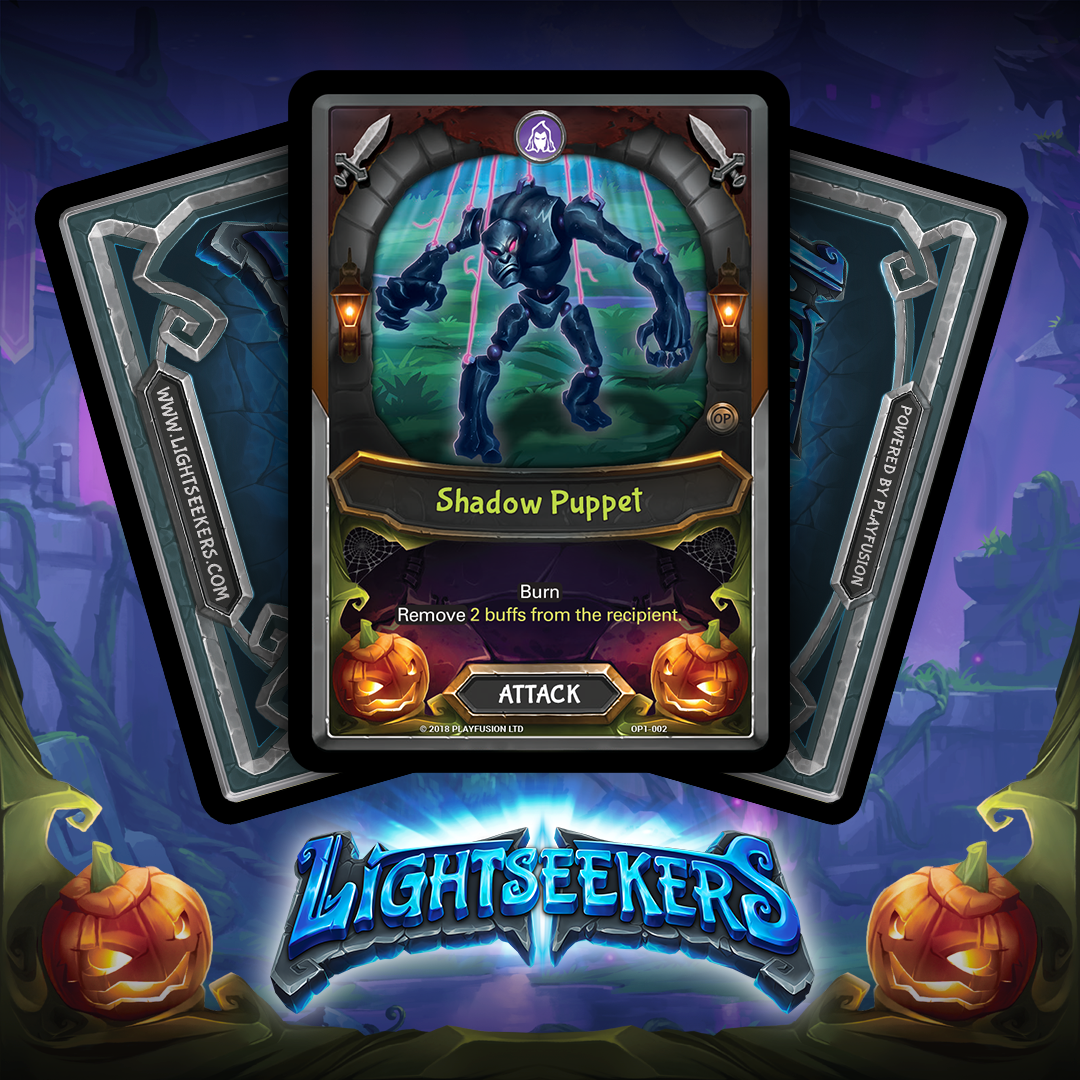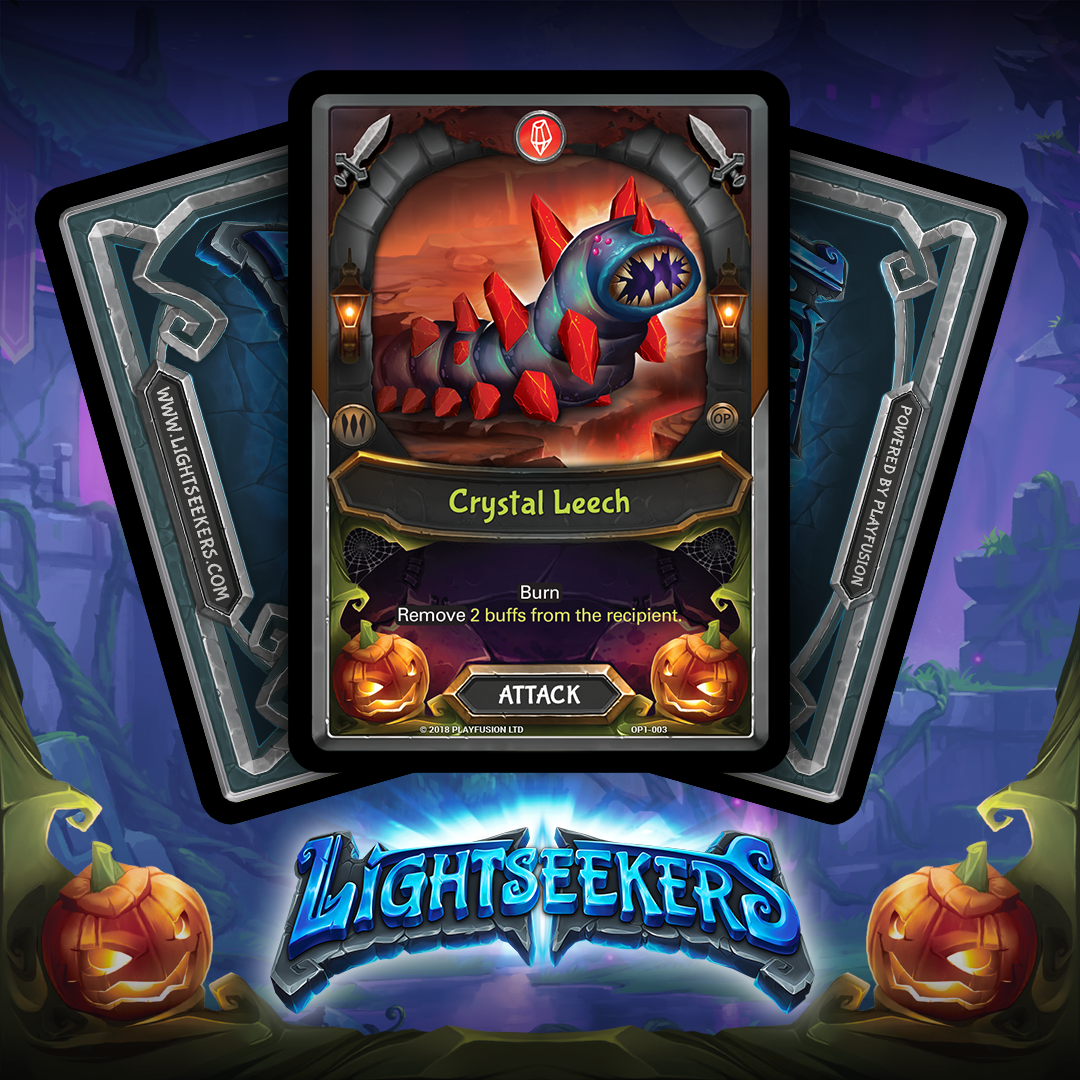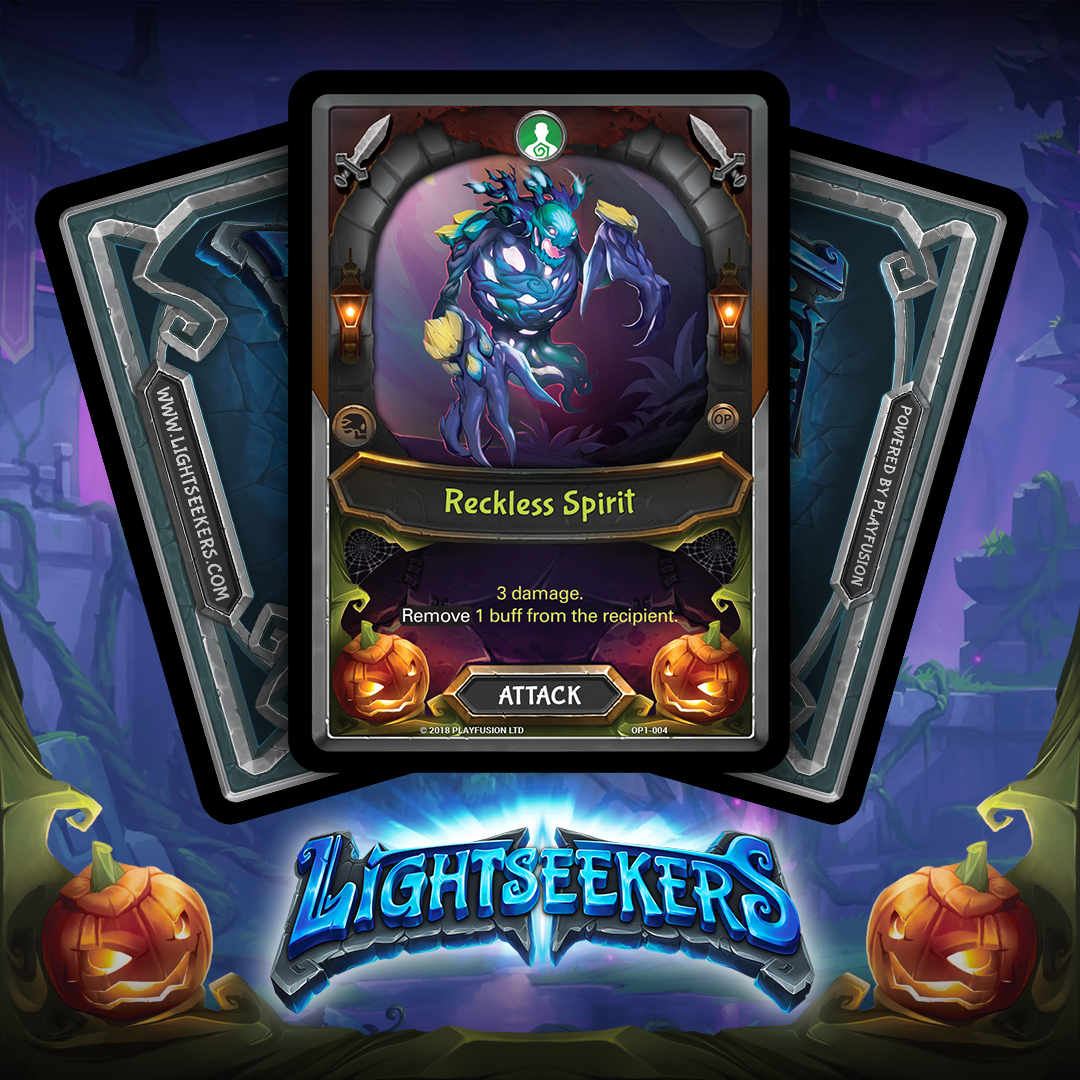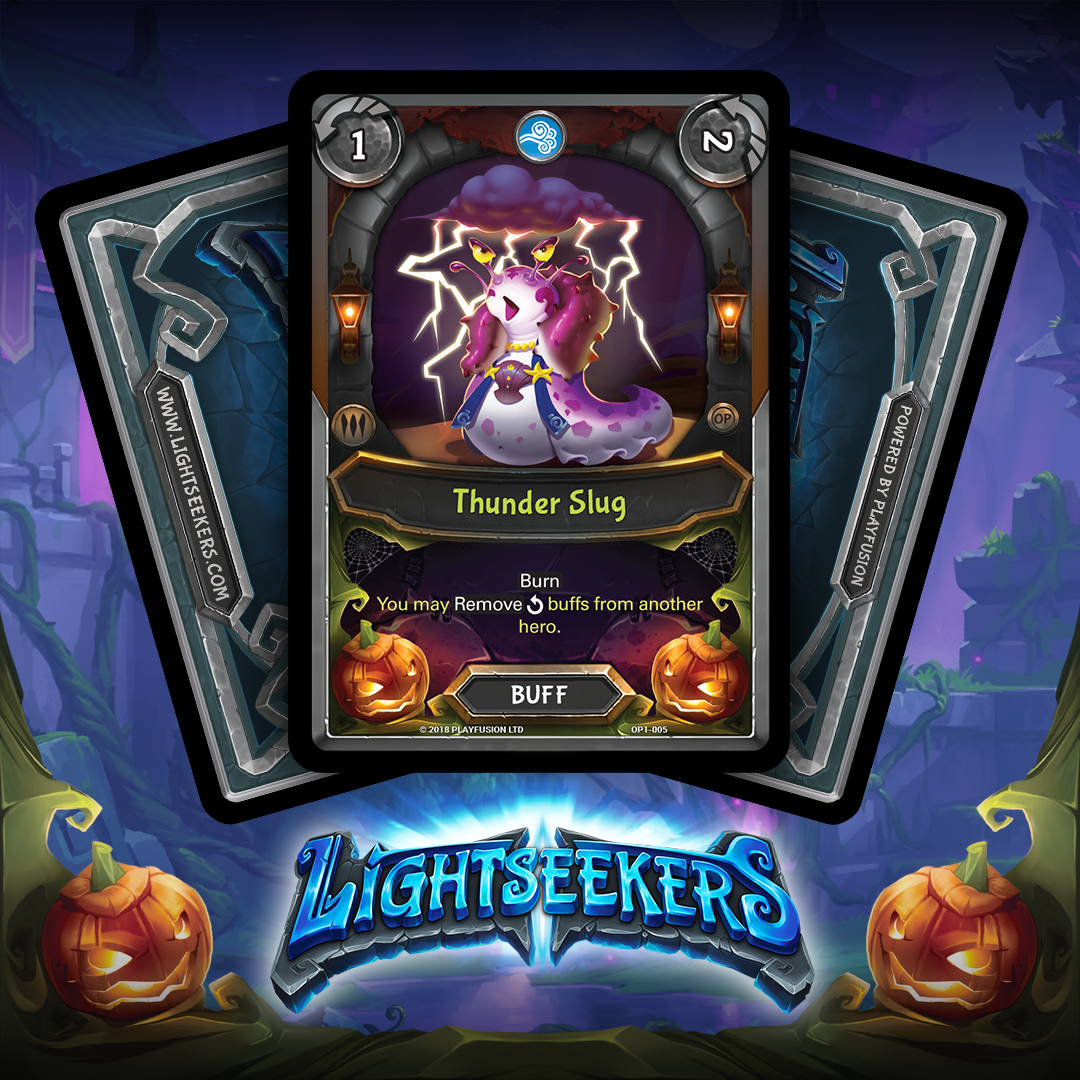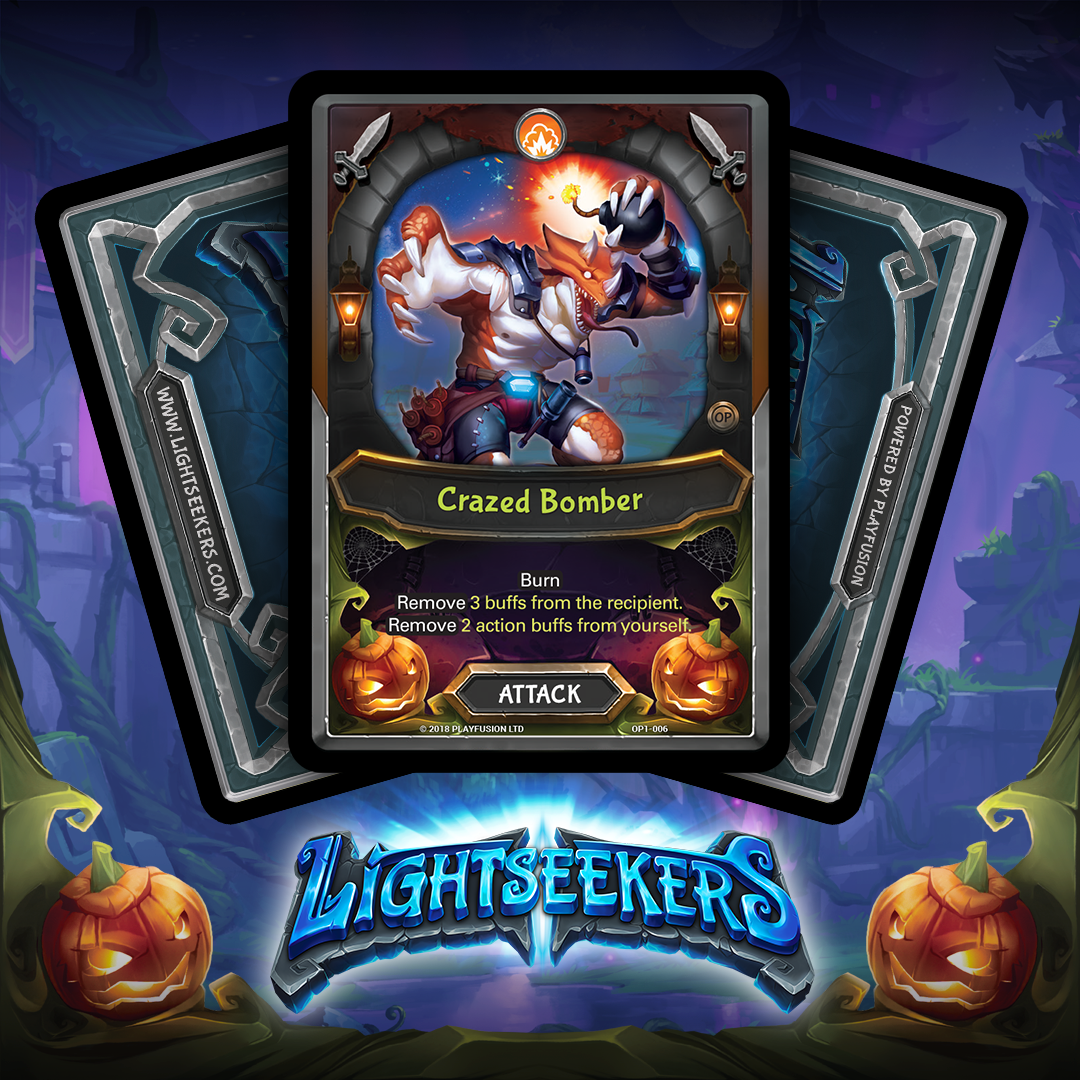 To find out more about the new OP kits and what has changed, visit the first part of our Halloween Organized Play Announcement! 
Discus this further in the Forum.