September 5, 2019
Today we have a bumper update for Lightseekers; simply put, we've put together a bunch of new ways to get you more stuff, as well as new stuff for you to get! Read on to learn more!
Firstly, we're bringing alternative art hero variants to your deck. These cards can be earned through Ranked Play or through our new Weekly Challenges.
Weekly Challenges
What are Weekly Challenges? Well, every starting every Wednesday, 3 objectives will be given to every player. These Weekly Challenges will be the same for all players, and will take the form of a variety of gameplay related objectives; from playing certain cards to winning games to levelling up. Completing these tasks will earn you points towards your total Weekly Challenge score, and if you manage to score high enough, you'll get exclusive rewards!
There are five milestones of rewards for you to earn. Everyone will have a chance to earn the first two milestones, while the best players of the week will get their hands on the top three!
Milestone 1: You earn a monochrome alternate art Hero card (with equal chance to get any rarity, from Common to Mythic!)
Milestone 2: You earn a booster pack!
Milestone 3: The top 100 players of the week will earn 50 gems, so be sure to battle up the leaderboards!
Milestone 4: The top 5 players of the week will earn a Weekly Contender playmat to show off for that week, but will have to give it back for whoever manages to get into the top 5 for the following week!
Milestone 5: The top player will get an exclusive Weekly Champion playmat to use and show their dominance for the following week! Will you be the one to be the first Weekly Champion?
There are also a number of new achievements associated with the Weekly Challenges and collecting monochrome Hero cards, so be sure to check them out!
Login Calendar
We have also added a brand new login calendar to the game. With 28 rewards to collect each month; all you need to do to earn the next reward in the calendar is to log in. If you miss a day, the same reward will be waiting for you the day after. The calendar only advances to the next reward after you have claimed the previous one.
There is a special 7-day calendar for brand new players. However, if you are an existing player, you get these 7 days worth of rewards for free! So the next time you log in, you should find them waiting for you in your inbox!
You can find the login calendar by tapping on the 'Loot' button on the top bar. Here you can view all of the month's upcoming rewards.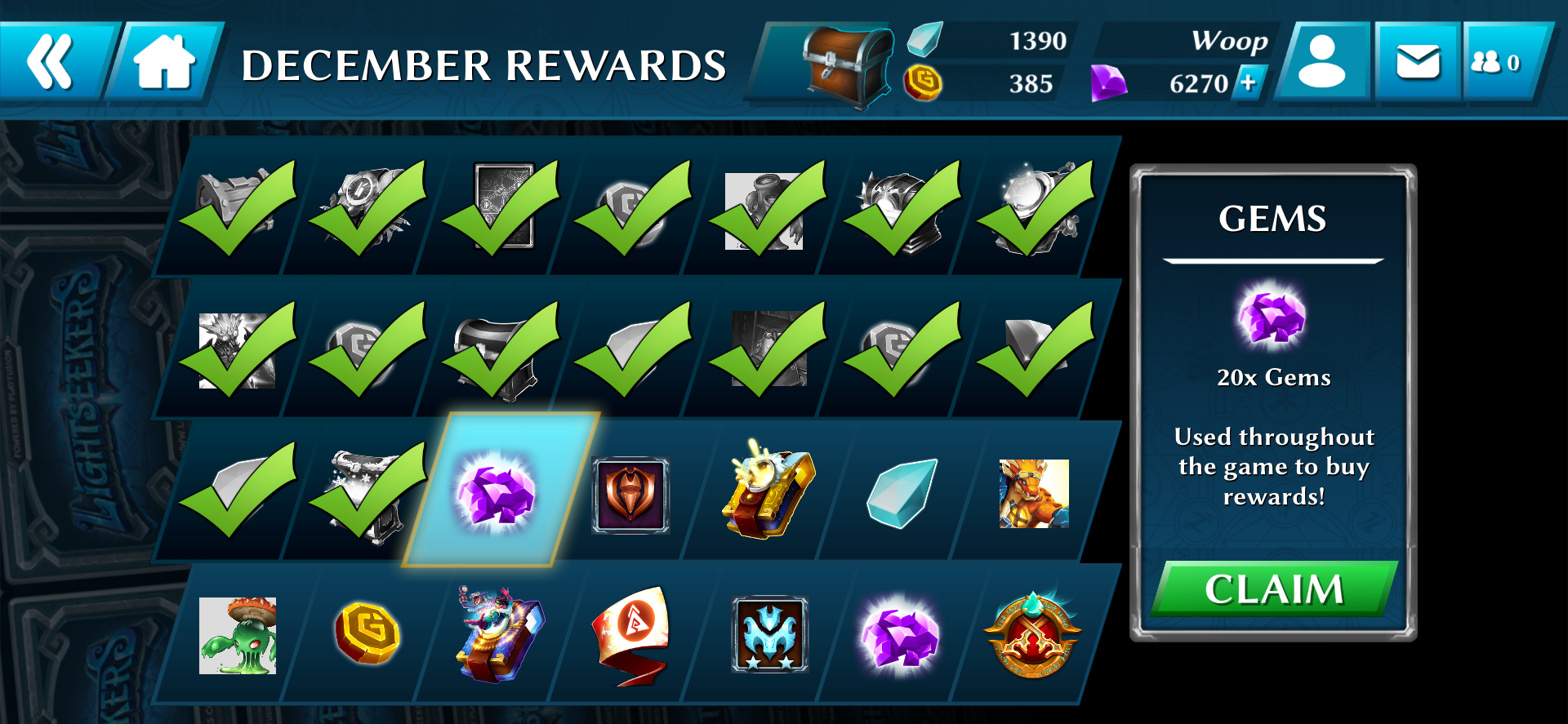 Ranked Rewards
You can now earn up to 5 monochrome Hero cards alongside your normal rewards. How many you get from a season depends on the highest League you managed to reach.
Silver – 1 monochrome card.
Gold – 2 monochrome cards.
Platinum – 3 monochrome cards.
Diamond – 4 monochrome cards.
Master – 5 monochrome cards.
We have also added a number of achievements related to Ranked play, so for all of you achievement hunters out there – you're in luck!
Other Improvements
In addition to the big updates listed above, we have a number of smaller features and quality-of-life changes for you to enjoy as well:
 – You will no longer have your cursor kicked out of the Buff lane while playing the game in controller mode. Even if someone plays a card or Buffs trigger for other reasons, your cursor will remain where you had it (and you can keep browsing Buffs at your leisure).
 – Power Cards can now be used in most Campaigns and against Hero Challengers.
 – If you try to enter an Adventure Mode game without having enough energy, but don't want to spend Gems to gain more, you can now simply skip using the Lightstones without having to manually unequip them.
 – Adventure Mode bosses that start on health values other than those on their card now display these correctly on the stage information screen.
 – Rewards in the reward list will now list their names along with the icons. Differentiating the different booster packs and loot chests should be more straight forward now.
 – We've split some achievements into new categories to make them easier to browse.
 – The cursor in controller mode should now be easier to track.
Bug Fixes
We've also fixed a few client side bugs:
 – Umbron Patron should now work properly when discarded.
 – The Switch UI should now probably tell you how many unread messages you have in your inbox.
 – The controller should now properly function on the 'rematch' interface after a game.
 – A few cards that had their black boxes escaping their text should now have been fixed.
 – Captain Rotbeard should now properly trigger if you play two Undead or Kreebal before a card of the other family.
 – Claws Clackerson should now properly trigger if you Attack or Defend twice before performing the other action.
 – Sarina and Kalamari should no longer increase incoming Item damage.